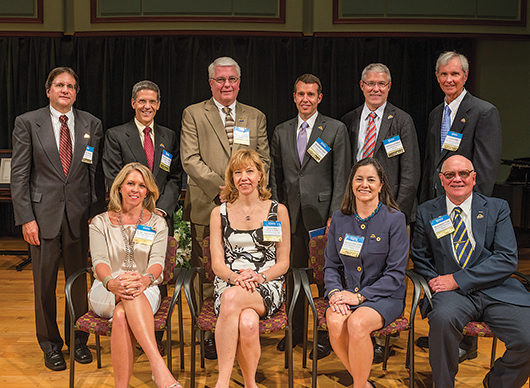 Kathy F. Atkinson
Wall of Fame inducts 10 outstanding alumni
ALUMNI | Ten UD graduates were honored for their accomplishments in an Alumni Wall of Fame induction ceremony held during Alumni Weekend in June. Established in 1984, the Wall of Fame recognizes outstanding professional and public service achievements.
Joining 246 previous honorees, the new members are Barry J. Bentley, EG78; Keith A. Bentley, EG80; Elizabeth Casey Halley, HS81; Wayne R. Hanby, AS76; W. Edwin Kee Jr., AG73, 75M, AS96M; Kathleen Kline Mangione, HS85; David A. Plouffe, AS10; James A. Sears, BE70; Timothy E. Shanahan, EH80PhD; and Liz Ann Sonders, AS86.
Speaking at the ceremony, UD President Patrick Harker called the Wall of Fame an honor reserved for "our most esteemed alumni." The 10 new members, he said, have been trailblazers in their fields whose "lives and success and service are a source of inspiration" and who have continued to be involved with their alma mater.
Barry Bentley is executive vice president and director of Bentley Systems, a company he co-founded. Based in Exton, Pa., Bentley Systems is one of the world's largest privately held software companies.
Keith Bentley is chief technology officer, principal software architect and director of Bentley Systems, which he co-founded after working for DuPont as a software creator for the engineering department. He was president and CEO of Bentley until 2000.
Halley is a principal in the Center for Transforming Health of the MITRE Corp., a federally funded research and development center, where she is a leading clinical informaticist with over 25 years of experience in health information technology and standards.
Hanby is a retired justice of the peace for the state of Delaware. A decorated Marine Corps veteran who served in the Vietnam War, he helped establish the Vietnam Veterans Leadership Program and served for a time as its executive director.
Kee is Delaware's secretary of agriculture, appointed to the position in 2009 after a career at UD in which he became a recognized national and international expert in vegetable science. In 2010, he served as president of the National Association of State Departments of Agriculture.
Mangione is a professor of physical therapy at Arcadia University, where she was among the first 14 specialists to earn board certification in geriatric physical therapy. Her clinical career and her research have focused on older adults and such topics as exercise, hip fracture and frailty.
Plouffe, a senior adviser with AKPD, is a political strategist best known as the campaign manager for Barack Obama's 2008 presidential campaign and widely referred to as the "architect" of Obama's two presidential campaign victories.
Sears is a former executive with CIGNA Corp., where he was vice president and chief accounting officer until his retirement in 2003. He started his career at the accounting firm Peat, Marwick, Mitchell and Co., and then moved to the Insurance Company of North America, which was later sold to Cigna.
Shanahan is Distinguished Professor of Urban Education at the University of Illinois at Chicago, where he is director of the UIC Center for Literacy. He previously was director of reading for the Chicago Public Schools, serving 437,000 children.
Sonders is senior vice president and chief investment strategist with Charles Schwab and Co., where she chairs the Investment Strategy Council with a range of investment strategy responsibilities reaching from market and economic analysis to investor education, all focused on the individual investor.