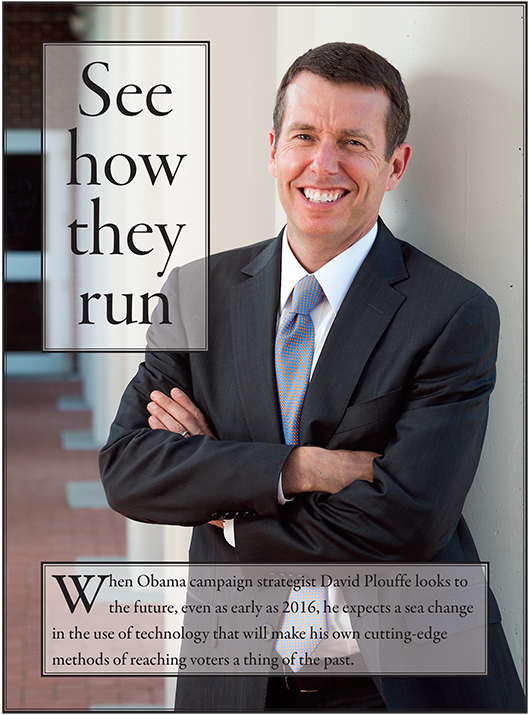 ALUMNI | Plouffe first got involved in politics, not because of ideology, but because of UD's student newspaper. "The impetus for my career was an advertisement in The Review," says Plouffe, whose previous work experience had been cleaning chimneys and selling knives and who thought a better option might be working on the 1988 U.S. Senate primary campaign of Delaware Democrat Samuel S. Beard, who was battling S.B. Woo, a UD professor.
Plouffe was hooked, not because his candidate won—he did not—but rather that when all was said and done Beard had lost by a mere 71 votes of 40,000 cast. "That had a big impact on me," Plouffe says. "It taught me that if any one of us had worked harder, we would have come up with a way to win."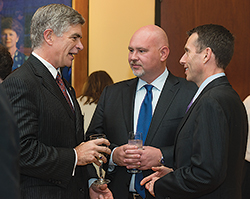 Kathy F. Atkinson
Plouffe soon left the Newark campus, short on credits but long on enthusiasm to pursue his newfound interest in all things politics, and he steadily rose through the ranks, first working on the 1990 re-election campaign of U.S. Sen. Tom Harkins, the Iowa Democrat, later leading the successful 1996 New Jersey campaign of U.S. Sen. Robert Torricelli and serving a stint as executive director of the Democratic Congressional Campaign Committee.
In a move that would have historical ramifications, Plouffe joined AKPD Message and Media, where he and David Axelrod worked on the 2004 U.S. Senate campaign of Obama, then an Illinois state senator who eventually decided to take on Hillary Clinton in the 2008 Democratic presidential primary.
Plouffe served as Obama's campaign manager in 2008, helping steer victories over Clinton for the nomination and John McCain for the White House, and later became senior adviser to the president.
His influence on the 2008 and 2012 presidential elections is hard to overstate, as he brought a healthy appetite for long hours and hard work, a keen understanding of organization and an interest in the use of new technologies. Email was the watchword in the first presidential campaign, providing a means to communicate directly with supporters and other potential voters, to share a message and to ask for assistance. By 2012 social media, particularly Facebook, proved to be key, with the campaign using the technology to reach out to voters and to ask them to encourage friends in battleground states.
Obama himself thanked Plouffe in his famous 2008 election night speech from Grant Park in Chicago, saying his aide was "the unsung hero" who built "the best political campaign, I think, in the history of the United States of America."
Plouffe calls himself "blessed to have had this moment in my life."
"To work for somebody you believe in, to turn out the grassroots vote, to succeed—I understand how special this is," he says. "This was once in a lifetime, as good as it gets."
Although his immediate intentions are to spend more time with his wife and children, Plouffe says the life of politics is "like the Corleone family; you never really leave."
While he is no longer in the White House, he plans to assist the president and the administration in any way he can. He continues to have great interest in both technology and strategy and predicts another "sea change" by the next election in 2016. What this is, he admits he doesn't know, but with data getting better and the number of smart phones growing, he suspects strategies could revolve around the handheld devices. Video could be a major factor, as well, and holograms of candidates discussing the issues via pads or tablets carried door to door by campaign workers is not out of the question. "The sky's the limit," he says.
Perhaps what excites him most, however, is the interest in politics among young people. "We desperately need better, more committed people running for office," he says, candidates who are "more selfless, more innovative, less partisan and not careerists."
Although he earlier left UD without a degree, Plouffe is now a graduate, receiving a bachelor's degree in 2010. Technology played a role in that process, too, as he took classes online and completed proctored examinations at neutral sites. "It was hard work, no question about it," he says.
Plouffe is part of the unusual grouping of nationally recognized politicians and political workers that led Bloomberg News to call UD the "epicenter" of national politics in 2008, when he led the Obama campaign with Joe Biden '65 on the ticket, and Steve Schmidt, who finished up his degree this spring, led the McCain campaign. In the meantime, New Jersey Gov. Chris Christie '84 has continued the tradition.
In fact, although on opposite sides of the aisle, Plouffe and Schmidt have become friends, in part through joint appearances sponsored by UD's Center for Political Communication. "Not many people have done what we have done – run a national campaign," Plouffe says. "That creates a special bond."
Article by Neil Thomas