Baby love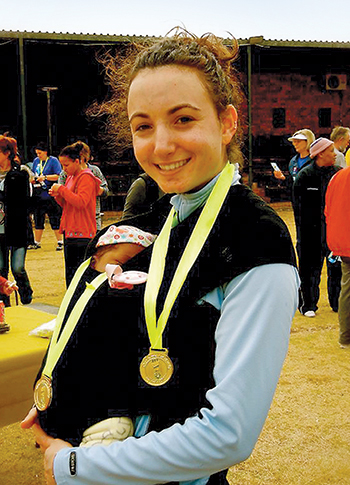 ALUMNI | Bari Melker's goal is to travel around the world delivering babies. The 2011 graduate of UD's School of Nursing recently spent a year volunteering in South Africa, first in a safe house for abused and abandoned children and then in a small maternity hospital.
Now back in the U.S. to attend midwifery school, Melker is marking time until she can get on another overseas flight, maybe to South America.
But at some point, she will undoubtedly fit in another trip to South Africa so that she can reconnect with "her" baby, a little girl named Busi that Melker literally carried close to her heart for several months.

The story of Melker's travels begins in October 2010, when she was a senior at UD and talked her way—long after the sign-up deadline—into a Winter Session study abroad program in South Africa, led by nursing instructor Lisa McBeth. Melker was assigned to work with children at New BeginningZ in Pretoria.
"Within the first minute of hearing Tahiyya [Hassim, founder of New BeginningZ] speak, I knew that my life was about to change forever," Melker says. "On the plane back to Delaware at the end of the program, all I could think about was, 'How am I going to get back there and work with her?' She was so inspirational."
After graduating and passing her boards, Melker worked as a nurse in New York for five months—just long enough to save the money she needed to get back to Pretoria, arriving at New BeginningZ in February 2012.
After about a month, Hassim handed her a premature newborn and said, "She's all yours, Bari." Because the infant was so tiny and fragile, Melker nurtured her using a method called Kangaroo Mother Care (KMC), in which the baby is carried on the mother's chest and secured with a scarf-like wrap. The process helps tiny babies regulate their body temperature, and moving around with the mother helps with brain development.
"For almost three months, I had her right next to me, skin-to-skin, for 22 hours a day," Melker says. "She was truly 'my' baby, even as I continued to work at the safe house caring for other babies and children."
But eventually Melker had to leave Busi, as the young nurse had committed to working in a maternity hospital in Cape Town for her second six months in South Africa. There, she worked in labor and delivery, volunteered in the neonatal intensive care unit and taught KMC. When McBeth brought her 2013 study abroad group to the hospital, Melker realized that she loved teaching and was inspired to go back to school herself.
Meanwhile, she will always have a tie to South Africa through Busi, who was adopted by a nurse who wants to maintain her baby's bond with Melker.
"She sent me pictures of Busi's first birthday party in February," Melker says. "She's an amazing mom who's going to give this little girl an amazing life."
Article by Diane Kukich, AS73, 84M
Note: Lisa McBeth has touched many lives herself, including those of the students she has taken to South Africa and Peru over the past three years. In 2012, their nominations resulted in her selection as UD's first Study Abroad Faculty Director of the Year.