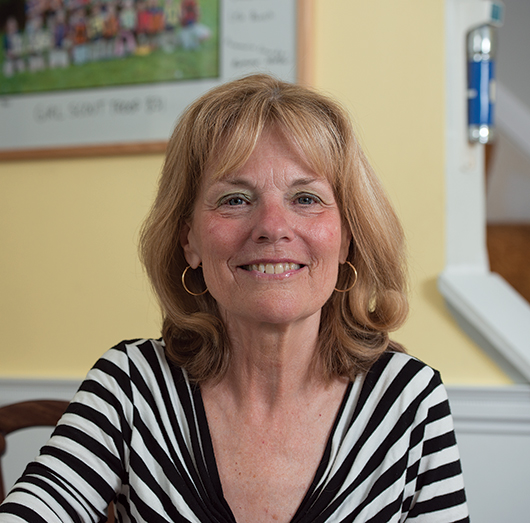 Photos by Kathy F. Atkinson
Passing the test
Teacher remains optimistic in drive to overcome obstacles
ALUMNI | Anne Mekalian just sparkles. Children love her, men notice her, and other women really want to be her friends. What you spot first about her is all that personality. It takes a second or two to realize that some parts of her are missing. Important parts. Things the rest of take for granted, like fingers, toes, hands, feet and portions of her arms and legs.
A few years ago an infection sent Mekalian, EH68, then a third-grade teacher, spiraling into a new portion of the population—those known as quadruple amputees.
As a teacher, Mekalian was used to picking up colds in her active classroom and thought little of the cough that was making her miserable in March 2011. When her friend and now fiancé Pete Lodgen insisted on taking her to the emergency room, he literally saved her life.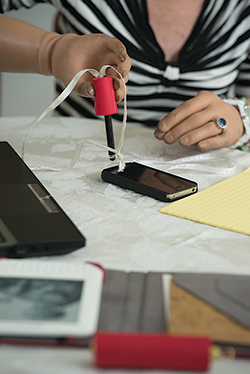 She collapsed on the emergency room floor and was quickly diagnosed with strep and double pneumonia. With her body in septic shock, doctors gave her a 15 percent chance of survival. Sepsis, sometimes referred to as blood poisoning, is a life-threatening complication of an infection. In Mekalian's case it sent blood to her main organs and depleted the flow to her extremities.
She was in an induced coma for three weeks and has dim memories of asking why her hands and feet were turning black. She has only groggy recollections of signing papers to have her limbs amputated. She remained in the hospital for another three weeks and was then released to the Amputee Rehabilitation Program at the University of Maryland's Kernan Hospital, where in seven weeks she had to learn to live differently—with prosthetic hands, arms, feet and legs. She continued outpatient therapy for a year.
Meanwhile, at the Cathedral of Mary Our Queen Elementary School, Mekalian's students were in shock over what was happening to their favorite teacher. Once they knew she would survive, 8-year-old Casey Brown organized a campaign to raise the $52,000 needed to adapt Mekalian's car for her special needs. In an effort that included lemonade stands, a video and online fundraising, the students tracked their progress on a website titled "Driving Mrs M" at www.giveforward.com/fundraiser/kj01/drivingmrsm.
"When Mrs. Mekalian heard that we were planning a fundraiser for her, she surprised all of us by WALKING into our classroom to thank us," her students wrote on the website. "She made such a difference in our lives, and we now want to make a difference in hers."
The initial dream was to adapt Mekalian's bright-yellow Crossfire, but it became evident that she would need a larger vehicle to accommodate the length of her prosthetic arms. She has passed her driver's test and is optimistic about taking the wheel again.
She's already been on a family vacation that included deep-sea fishing, and she walks a mile around her neighborhood most days, causing neighbors to say she puts them to shame.
She credits Lodgen and her family with getting her out and about and says she doesn't mind the stares she receives, although she feels bad knowing children may be frightened of her. Always a teacher, she is pleased to talk about her condition with anyone who approaches her.
"I think I've always been kind of optimistic, upbeat and cheerful, although I never thought of myself as a strong person," she says. "I've been surprised that I can be pretty accepting of all this. It's the things that I didn't expect that frustrated me. For instance, I came home in a wheelchair that wouldn't fit through the bathroom door. It made me transition to a walker all the more quickly!"
A self-described type-A personality who was constantly on the go, Mekalian admits she still wishes she could do thing faster.
"There are days when I think I'm not making any progress at all," she says. "And then I'll run into someone I haven't seen for months and they'll say I'm doing so much better. That really keeps me going."
Always a fashionista, Mekalian finds her choice of clothing somewhat limited. While she is a wiz at applying her own makeup, shoes can pose a problem because the backs of her prosthetic heels are square. She and Lodgen laugh about the way people look at them in a store when he tries to pound shoes onto her feet with ankles that don't bend. Many tools for amputees, like zipper pulls, are made for larger menswear and are too big for Mekalian's clothing.
Her daughter, Lauren, a physical therapy student, is inspired by her mom's resilience and determination and says she hasn't fundamentally changed:
"She is still the optimistic, kind-hearted person that she always has been, and I often find myself forgetting that she has prosthetics. Her patience, courage and inner strength are tested on a daily basis, and she consistently rises to meet every challenge with grace, tenacity and humor."
At the Applied Physics Lab at Johns Hopkins University, near her home in Maryland, Mekalian is hoping to qualify for a prototype prosthetic hand that has individualized fingers. She has been working there with Dr. Albert Chi to train new muscles that will make the hands move in new ways.
She has also spoken to a biomedical engineering class at Hopkins, at Kernan Hospital's volunteer appreciation day and at the June national convention of the Amputee Coalition.
And, always, she works on her goal of becoming more and more independent. "I really don't think of myself as handicapped," she says.
Toni Marken, her occupational therapy assistant, agrees. "It has been one of the greatest pleasures of my life to know and work with Anne," Marken says. "She has faced adversity with courage and spirit. She never says, 'Woe is me.' Anne sets a goal and works tirelessly to achieve a positive outcome."
Article by Beth Thomas