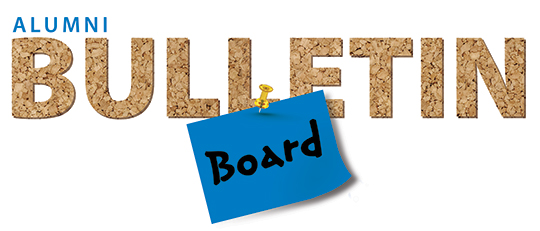 UD Day of Service
UD Day of Service
Saturday, Sept. 21, 2013
Alumni service projects planned nationwide
Visit www.UDconnection.com to sign up
for a service project in your city.
UDAA welcomes new members to board of directors
Six new members have joined the UD Alumni Association Board of Directors, for terms that will continue until June 30, 2017, and new officers have been elected.
The new members are Christine Murowany Hidell 76AS, a small-business owner who has hosted UD interns at her current and previous businesses; Linda Justice Myrick 77EG, director of the Biomarkets Program for Air Liquide's Delaware Research and Technology Center; and Paige Doeberl Rubino 07BE, a certified public accountant with Horty and Horty who is active with the Kent and Sussex Counties Alumni Club.
Also: Scott Bell 83EG, a business unit executive with IBM who has been vice president and president of the New Castle County Alumni Club; Chester "Chip" Davis Jr. 90BE, executive vice president of advocacy and member relations with Pharmaceutical Research and Manufacturers of America; and Chad Reynolds 00BE, a project manager with Leon N. Weiner and Associates.
Serving two-year terms as UDAA officers, through June 2015, are: president, Kenneth Jones 80BE, a vice president with Morgan Stanley Smith Barney; vice president, Anne Giacoma Barretta 83AS, an adjunct professor at William Patterson University; and treasurer, Kerry Orendorf Halbedl 02BE, a senior accounting analyst with DuPont.
Oct. 7-12: Mark your calendar for Homecoming Week fun
Save the date for this year's Homecoming, Oct. 7-12, which promises to be a week filled with events for all Blue Hens to celebrate their UD spirit.
In addition to receptions and affinity group gatherings that are scheduled throughout the week, activities will include such special events as a post-game Goalpost Party on South Campus, with live music and dancing for all alumni and families, and the Presidential Citation for Outstanding Achievement awards ceremony, honoring accomplished alumni who graduated in the last 20 years.
On Saturday, Oct. 12, alumni and fans will cheer on the Blue Hens as they take on Albany at noon at Delaware Stadium. The game will also be the occasion for a reunion of Delaware's 1963 National Championship team.
The Homecoming Student Committee, under the guidance of the Office of Alumni Relations, has been meeting since February to plan Homecoming activities for students, and Alumni Relations is coordinating events for alumni.
If your group would like to plan an event, contact Alumni Relations Associate Director Christine Scheirer, AS09, at cls@udel.edu for assistance.
Visit www.udel.edu/homecoming for all the details, including football ticket and tailgating information.
More Blue Hens travel the world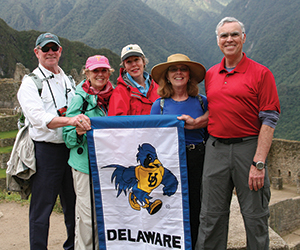 A group of alumni recently traveled to South America on a National Geographic expedition to the Galapagos Islands of Ecuador and the Andes Mountains of Peru, where they introduced YoUDee to Machu Picchu, the "lost city of the Incas." From left are Steve Stockwell 68AG, Sherry Riggs Clothier 69AS, Pat Tase Stockwell 68AS, Nancy Murray Carney 70HS, 75EH/M, and Jim Murray 69BE.
Association honors outstanding new graduates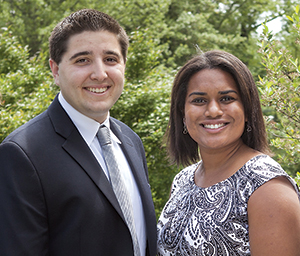 Max Logan Kramer and Melanie Allen received this year's Alexander J. Taylor Sr. and Emalea Pusey Warner awards, respectively, as outstanding members of the 2013 graduating class. The awards are given annually by the UD Alumni Association to recognize the senior man and woman who most exemplify leadership, academic success and community service.
Allen was an Honors Program student and double major in wildlife conservation and agriculture and natural resources, with a minor in public policy. With a 3.64 grade point average, she received more than half a dozen academic awards and distinctions, including a U.S. Forest Service Sustainability Fellowship and the African American Student of Distinction.
She has been a leader in UD's Alternative Spring Break program and the UD Sustainability Task Force and served as an Honors Program Writing Fellow and as an Ag Ambassador for the College of Agriculture and Natural Resources.
Kramer graduated with bachelor's degrees with honors from the College of Arts and Sciences and the Alfred Lerner College of Business and Economics, majoring in political science and economics. He is a Dean's List student with a GPA of 3.9.
Kramer focused his extracurricular activities on political activism, mentoring, legislation and community service, working as a political aide, a legislative aide and a campaign field organizer for various public officials and candidates. At UD, he was active in many campus activities including serving as president of the UD Model United Nations.
Regional club events
Throughout the last few months, Blue Hens around the country enjoyed the national pastime as part of a summer baseball series sponsored by regional alumni clubs, the Office of Alumni Relations and the UD Alumni Association.
This year's series featured more than 20 games, many including private receptions and picnics for club members and guests.
Groups of alumni attended major league games from Baltimore to San Diego and Miami to Seattle. Minor league games attracted crowds in such cities as Reading, Pa., and Aberdeen, Md.
With the end of baseball season, alumni clubs remain busy planning plenty of fall and winter activities. Here is just a small sampling of what's on the calendar.
Sept. 8—Lancaster, Pa. - Blue Crabs @ Barnstorers Game and Picnic
Sept. 14—Annapolis, Md. - UD v. Navy Football Tailgate at Navy-Marine Corps Memorial Stadium
Sept. 16—Newark, Del. - Cooking Demo at UD Bob Carpenter Center
Sept. 20Tampa, Fla. - Orioles @ Rays Game and Reception
Sept. 21—UD Day of Service, nationwide - Visit www.UDconnection.com to sign up for a service project.
Oct. 6—Miami, Fla. - Ravens @ Dolphins Game and Reception
Oct. 7-12—Newark, Del. - UD Homecoming Week
Oct. 10—Philadelphia, Pa. - Attorney Networking Event
Oct. 19—Boston, Mass. - Head of the Charles Post-Race Happy Hour
See more events and register at www.UDconnection.com/clubs.