Alumni briefs
Designer cooks up a sweet business venture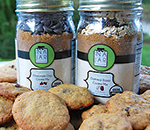 Kristin Farrell, AS11, has combined her love of baking and of design with an entrepreneurial spirit to produce an organic and eco-friendly food line.
After earning her degree in visual communications and beginning a job search, she decided instead to try applying her creative skills to an idea she had for wholesome, no-fail recipes in a jar. She formed a business, "In A Jar Foods," and began producing organic chocolate chip and oatmeal raisin cookie mixes in sustainable and reusable glass jars.
Farrell began selling the mixes at holiday fairs in the fall of 2011 and says she quickly reached the 1,000-sales mark.
Today, the cookie mixes are available, not only through the company website at www.inajarfoods.com but also at a variety of retail locations including Balducci's and select Whole Foods stores. Many customers give the jars as presents, Farrell says, or they use them to make organic or gluten-free cookies, which then become a hostess or teacher gift themselves.
Plans for the business include expanding beyond cookies to include other organic recipes as well.
Engineer leads university in Taiwan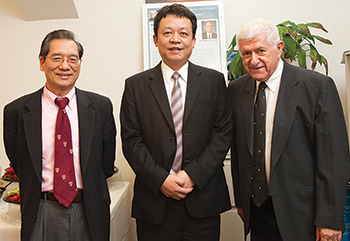 Suen-Zone (Jack) Lee, EG93PhD, has been named president of Chia Nan University of Pharmacy and Science in Tainan City, Taiwan, the second largest private technological university in Taiwan with 17,000 students and more than 500 faculty and adjunct faculty members.
Lee, who earned his doctoral degree in civil and environmental engineering, is a leading expert in environmental engineering in Taiwan, particularly in groundwater contamination.
At UD, he studied soil heavy metal chemistry—how soil reacts with heavy metals—in order to establish soil cleanup standards, working under the advisement of Herbert Allen, a professor of civil and environmental engineering who retired in 2008.
Lee returned to campus May 31 for the first time in 20 years to receive the Department of Civil and Environmental Engineering's Outstanding Alumni Award during UD's Alumni Weekend festivities. Recognition from a United States university, he says, brings honor and distinction not just to him but also to all his colleagues at Chia Nan.
Air Force officer urges RISE to greatness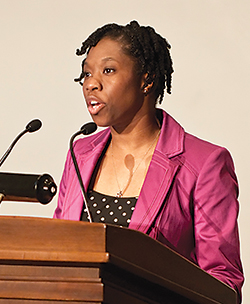 The story of Orville and Wilbur Wright's first flight in 1896 is one of perseverance, hardship and ultimately engineering triumph.
It's also an apt illustration of what it takes to succeed as an engineering student, says Marlyse Williams, EG04, 06M.
"Are you ready to take flight?" she asked, speaking at the 21st annual University of Delaware Resources to Insure Successful Engineers (RISE) student achievement convocation in May. Williams, a first lieutenant in the U.S. Air Force, was once a RISE student herself. In her keynote speech, she encouraged the graduating seniors to emulate the Wright brothers' dedication and commitment, saying, "Strive for nothing short of greatness."
"You will encounter challenges and failures and setbacks, but you must learn to be resilient, to learn from those mistakes and to continue to have faith," she said.
At UD, Williams earned her bachelor's degree in environmental engineering and a master's degree in civil engineering as a Bridges to the Doctorate Scholar and a Louis Stokes Alliance for Minority Participation Scholarship recipient. Her master's thesis was published as a textbook in 2007. She went on to earn a doctorate in agricultural and biological engineering from Pennsylvania State University in 2010.
Today, Williams supervises more than 1,100 military and civilian personnel and assists in the maintenance and repair of more than 4,000 buildings and facilities on 44 acres at Joint Base McGuire-Dix-Lakehurst.
From 'seed to cup,' he knows coffee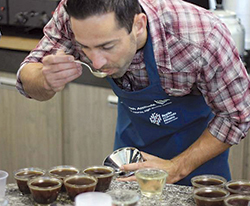 This year marks Law Coffee's 104th anniversary, and it has been anything but ordinary for his family business, says David W. Mendez, BE03.
A severe outbreak of coffee rust, or La Roya, left Guatemalan coffee farmers scrambling to afford necessary pesticides and employee training. This, combined with striking farmers in Colombia, highlights a coffee market that was trading at a four-year low.
But Mendez, who sources coffee for Law, remains confident in his family's century-long resilience and the fact that, he says, "Many say they cannot survive without their morning cup of coffee."
Four generations ago, Walter Law started what would become a wholesale business traveling from house to house by horse-drawn wagon and using the aroma of his coffee beans to attract customers. His son, Warren Law, moved the business to Newark, N.J., where it is based today.
Law Coffee imports and packages coffee from all over the world and sells it to restaurants, cafés and convenience stores. As sales director, Mendez says he knows everything from the family's history to each step in the packaging process from "seed to cup," including where the coffee is grown, how it's roasted and ways to fix a broken coffee machine.
Mendez studied marketing and management at UD with the idea of trying a different career path and worked as a financial planner after graduation. But he couldn't ignore his attachment to the family business, and he's been working there since 2004.
Article by Christopher Pinti, BE14
Helping students, families access college
In many ways, Chanel Gaither's name is synonymous with the nonprofit she started.
"It's been a really great resource," says Synclaire Oglesby, a UD Honors Program student and biological sciences major, speaking of the Minorities Achieving Collegiate Success (MACS) program. "Ms. Chanel has been my mentor throughout. She understands where I come from."
The first in her family to attend college, Gaither, who in May earned her master's degree in public administration from UD, created MACS to help others like her navigate all aspects of the college process, from selecting a school, applying for financial aid and meeting admissions deadlines, to ultimately thriving once on campus.
Launched in 2004 and incorporated in 2008, the program has worked with scores of high school students from Delaware, and all of them have eventually gone on to college.
Thirty MACS graduates are currently in college—nearly half at UD—and more than a dozen have already earned their undergraduate degrees. This fall, five more MACS students will be attending UD, all in science, engineering and medical disciplines. Two alumni are in graduate programs at other institutions.
"Parents really see me and MACS as their child's advocate," Gaither says. "Most of the families I worked with have never been through this process before, so my goal is to help them at every step."
Gaither hopes to apply her education and experience to growing the MACS program into something that could one day become a national model.
"I think college access is one of the greatest issues of our day," she says. "I want to do my part to help as many students achieve collegiate success as I can."
Farm-fresh, flavorful…and affordable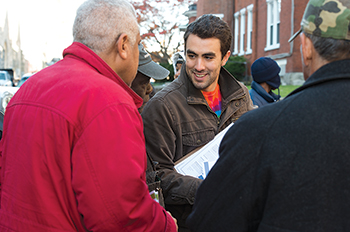 One 38-degree day last November, Dan Reyes, AS12, was speaking to a group of 50 or so men, women and children gathered outside a Wilmington, Del., food pantry.
"We want to make sure you have access to the best produce," said Reyes, then a senior anthropology major. "To locally, naturally and organically grown fruits and vegetables. Pesticide-free. Herbicide-free. The kinds of food normally too expensive to buy in grocery stores."
These are the kinds of food that low-income households were able to purchase using their federal food benefits—thanks to the Food Bank of Delaware's Community Supported Agriculture (CSA) program developed by Reyes and Nick Rockwell, AS11.
Funded by a $300,000 U.S. Department of Agriculture grant, CSA enabled 100-200 low-income families to purchase subsidized shares of fruits and vegetables from two local farms, allowing those farmers to, in turn, increase their annual revenues by nearly $50,000.
"This will allow us to provide outreach to households about healthy foods and about how local farmers play a key role in our food supply," says Patricia Beebe, Food Bank president and CEO.
A $10 deposit, paid either in cash or through SNAP (Supplemental Nutrition Assistance Program, formerly known as food stamps), covered a family's first week and held their place in the program, which began in mid-spring and ran for 18 weeks.
Participants picked up their "shares"—nearly 10-15 pounds of fresh produce—every Thursday at Wilmington's Cool Spring Farmers Market, where they had access to cooking demonstrations and tastings.
"Sign me up," 65-year-old Bernard Lolly told Reyes. "I'm a senior. I need to eat healthy, and this will put more food on my table."
The idea for the program began in summer 2011, when Reyes and Rockwell began researching the concept of making CSA available to low-income Delawareans. Working as service learning scholars at UD, they met with every CSA farmer in the state and found that the agricultural community had an "overwhelming desire" to feed their low-income neighbors.
"It's a matter of equity and justice," Reyes says, "and this is an ideal partnership."
Article by Artika Casini, AS05
Double Dels find love in all the right places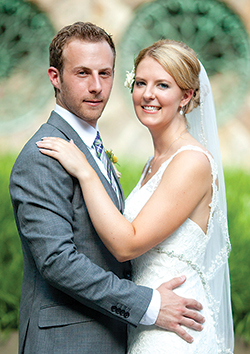 Double Dels—the term affectionately used to describe some 11,312 couples consisting of two UD graduates—sometimes find each other after they have received diplomas and left campus.
Alumni events around the country, hosted by the Office of Alumni Relations, allow Blue Hens to mingle, reconnect and form new friendships. As it turns out, those events are sometimes also conducive to finding love.
Mark, AS97, and Meghan, HS06, Sylvester became friends through the Washington, D.C., Alumni Club softball team. In 2008, Mark had been coaching the team for two years when Meghan came to one of the practices. The friendship eventually blossomed into romance, and Mark proposed to Meghan in Arlington, Va., on a hilltop overlooking the city. Their wedding party was filled with Blue Hens.
Since Mark and Meghan's time at UD never overlapped, the two credit the alumni club with bringing them together.
"It's a great way to meet people that you have something in common with, especially if you're moving to a new city," Mark says.
Tim, AS02M, and Dorie, EH02, Johanns also met through the Washington club. After agreeing to coach the club football team, Tim met Dorie at the very first practice.
"During the football season, you really get to know these people. It was a real tight group" that often went out together after games, Tim says.
He and Dorie started dating three months later and were married in 2009. Guests sipped a special UD drink—sweet tea vodka with lemonade—at their wedding. The two now have a son, who received an abundance of UD memorabilia upon his birth.
Not only do Double Dels meet at alumni events, they also use the opportunities to make it official.
Caitlin Binder-Markey, EH07, met her husband, Ben, EG08, the week before graduation. The two pursued a long-distance relationship until both moved to Chicago. In 2011, the Blue Hens traveled back to Delaware for Alumni Weekend, where Ben proposed to Caitlin on her birthday, surrounded by friends and family.
The campus has become a popular engagement setting for Double Dels, providing the perfect backdrop for two people who both understand the importance of kissing under the arches next to Memorial Hall.
Article by Kelley Bregenzer, AS12
New president named to lead Springfield College
Mary-Beth Cooper, AS83, is the new president of Springfield (Mass.) College, a position she began on Sept. 1.
Cooper, who earned her bachelor's degree in criminal justice at UD, most recently was senior vice president for student affairs at Rochester Institute of Technology, which she joined in 2001 after serving as dean of students at the University of Rochester.
In June, the Springfield College Board of Trustees unanimously approved he appointment as the institution's 13th president. Springfield has a total enrollment of about 5,100, including undergraduate and graduate students in traditional programs and those in the School of Human Services, a nontraditional experiential-learning program designed for adult students.
After graduating from UD, Cooper earned a master's degree in education from the University of Georgia and a doctorate in college and university administration from Michigan State University. She also holds a master of business administration degree from the University of Rochester and a doctor of management degree from Case Western Reserve University.
The Rochester Business Journal named Cooper one of the most influential women in that community, where she has been active in various roles, including serving as chair of the board of the YMCA of Greater Rochester. She and her husband, David Cooper, have a son, Calvin, who is a junior operations management major in UD's Lerner College of Business and Economics.