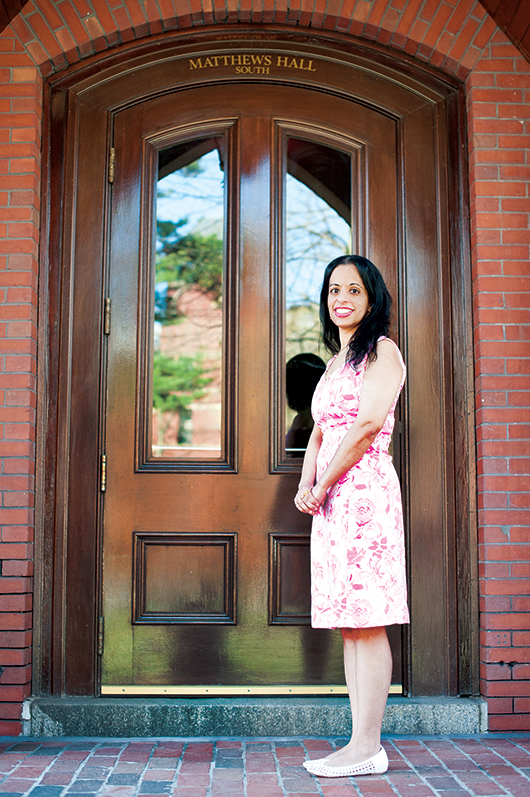 Valerie Lazzari
Her dream job helps others pursue theirs
ALUMNI | Each day, Sujata Bhatia wakes up in Cambridge, Mass. She exits her bedroom and brushes her teeth in a bathroom alongside the freshmen living in Matthews Hall. After breakfast in Annenberg Dining Hall, she crosses Harvard Yard to the Harvard School of Engineering and Applied Sciences.
Bhatia, however, is not an undergraduate. Rather, she is a physician, bioengineer, author, professionally licensed chemical engineer and Harvard University professor.
Much like Robin Williams' character in Dead Poets Society, Bhatia is living her dream of inspiring others as an unconventional teacher who doesn't just teach but also helps students believe in themselves and pursue their own paths in life.
"I try to convey to students that careers in science, technology, engineering and mathematics are not off limits—that anyone can be an innovator," the UD alumna says. "When students see you living a regular life, it makes them more comfortable with this idea."
Once at work, Bhatia meets with students to discuss career strategy, answer lecture questions, provide advice on undergraduate research projects or simply listen to those who need to unload. When students arrive with super ambitious four-year plans, she often experiences déjà vu and pictures herself sitting in the office of Jon Olson, a retired UD chemical engineering professor.
You see, Bhatia graduated from the University in 1999 with bachelor's degrees in biology, biochemistry and chemical engineering and a master's degree in chemical engineering, earning all four degrees in four years.
"What made my UD experience special were the faculty members who helped me to navigate the facets of my future—people like Jon Olson, Burnaby Munson and John Burmeister," she says. "This is what I try to provide for my students now."
Though she also holds both a doctorate and a medical degree from the University of Pennsylvania School of Medicine, Bhatia does not demand that her students call her "doctor" or "professor."
"I can't ask the freshmen with whom I live in residence to call me Dr. Bhatia, so all students call me by my nickname, Suji," she says.
Today's undergraduates, she says, are interested in health care and the environment. Bhatia believes that chemical engineering and biomedical engineering are good pathways for study because they bridge both areas, but she concedes that tomorrow's challenges are big and students need to get comfortable with struggling.
"Part of being successful, particularly in engineering, is the willingness to bang your head against the wall a bit and still be willing to try again," she says.
Afternoons are filled with teaching and advising students in senior design and individual projects. Some students are working on research projects to use naturally derived materials from corn, soy, bamboo and seaweed to develop biomaterials for medical applications, including wound closure and healing. Others focus on innovations related to drug and cell delivery.
In the evening she teaches students enrolled in Harvard's master's program in biotechnology before returning to Matthews Hall, where she becomes a parental figure, helping young students navigate their newfound independence, addressing obvious emergencies or sharing study breaks.
"This job can be all-encompassing—in a good way," says Bhatia, who also serves as assistant director for undergraduate studies in biomedical engineering and assistant dean of the Harvard Summer School.
In her free time, she explores Boston Common, hikes in nearby parks or attends theatre productions, especially Shakespeare. She's recently begun learning to play guitar and sing, skills she translates to the classroom through songs designed to help students remember things like how blood flows in the vessels or the path of filtration in the kidneys.
With two years as a Harvard professor under her belt, Bhatia reflects on how her career has unfolded, saying, "My job comes as close as you can get to a dream job. I get to teach students, research new biomaterials, work with brilliant people, be creative, build new things and see the positive impact that I am having on the world."
Undergraduates, she adds, have "that right mix of idealism and maturity." All they need is confidence, something Bhatia has in spades. In 2013, Harvard honored her commitment to students with both university and School of Engineering and Applied Sciences mentoring and advising awards.
As her day comes to a close, Bhatia often unwinds by reading. Currently on her nightstand is The Harvard Undergraduate Research Journal, which details interesting work being done by undergraduates across campus.
"When I look into my students' eyes, I can see how beautiful the future is going to be, and I'm addicted to that," she says.
Article by Karen B. Roberts, AS90