Dave Brock set to kick off new era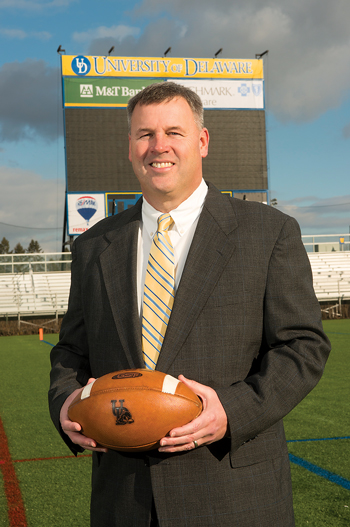 Photo by Duane Perry
SPORTS | A new era of Blue Hen football began in January with the selection of Dave Brock as head coach.
Brock, a veteran of 22 collegiate seasons as an assistant coach, is just the fifth head coach of UD football since 1940. He replaced K.C. Keeler, who led the Blue Hens for the last 11 seasons.
The University has produced six national championships, five national runner-up finishes, 20 NCAA tournament appearances, 20 Lambert Cup trophies, three College Football Hall of Fame head coaches and numerous All-Americans and National Football League players, including 2013 Super Bowl MVP Joe Flacco, quarterback of the champion Baltimore Ravens. (See story)
"Dave has substantial coaching experience at some highly competitive schools and has nurtured an impressive roster of players," UD President Patrick Harker says. "Just as importantly, Dave has a strong reputation for integrity and caring leadership. I think our student-athletes will thrive with him as their coach and mentor. And I know Dave will benefit from working with such a talented and committed group of young men."
Eric Ziady, director of athletics and recreation services, notes that when UD began its search for a new coach, it received a great deal of interest from around the country.
"The interest speaks so highly of our University and of our football program's rich tradition," Ziady says. "In the end, it was clear that Dave Brock has the character, the experience, the passion, the recruiting skills and the leadership qualities that will enable him to lead our program to championships on the field and success off the field."
Brock comes to Delaware after serving one season as the offensive coordinator and quarterbacks coach at Rutgers University. In 2012, Rutgers posted a 9-4 record, won a share of the Big East title and advanced to the Russell Athletic Bowl. Earlier, Brock coached at Boston College, Kansas State, North Carolina, Temple, Hofstra, Salisbury and Western Connecticut State.
"The opportunity to coach at a place with such a storied tradition, in the footprint of where I grew up and where I have coached most of my life, is an honor for my family, and I am humbled by the opportunity," Brock said when introduced at UD. "The University of Delaware represents excellence in academics and athletics, and I want to thank President Harker and Eric [Ziady] for inviting me into the family."
Brock played linebacker at Ferrum (Va.) College before earning a bachelor's degree in political science from Salisbury University in 1994. He and his wife, Karen, have five children.
Brock takes over a team that is coming off a 5-6 record in 2012 but returns 10 starters on offense and 12 players with starting experience on the defensive side.
Kyle Flood, Rutgers University football head coach and former Blue Hens assistant coach, calls Brock "the perfect fit" for UD. "I have two lasting memories from my time in Newark—great people and championship football," Flood says. "I know the people are still great, and I know Dave will bring championships back to Delaware."
Jim Turner, Miami Dolphins offensive line coach and former assistant coach at Delaware, also praised Brock's selection. "Not only can he evaluate talent, he can attract it," Turner says. "He is a natural leader. Players want to play for him."
For all the latest UD athletic news, visit www.bluehens.com.