Sports Briefs
Hall of fame welcomes 10 outstanding athletes
The 16th induction class of the UD Athletics Hall of Fame features five male and five female student-athletes and coaches, representing every decade since the 1950s and encompassing nine sports. Here are the members of the Class of 2012:
Agnes "Aggie" Bixler (now Kurtz), a pioneer of women's athletics and Delaware's first field hockey coach in 1969;
Edward J. "Eddie" Conti, HS02, a wide receiver and kick returner, whose lightning speed made him one of the most exciting athletes in UD football history;
The late Raymond H. "Skip" Crawford, EH57, who used his jumping ability and quickness to become a prolific scorer for men's basketball in the 1950s;
Renee DuFlon (now Elsman), HS80, an outstanding hitter for the successful volleyball teams of the late 1970s;
Megan L. Fortunato (now Fisher), HS01, a star in field hockey and lacrosse as one of the last student-athletes to play both sports at UD;
Robert D. "Bob" Hooper, AS56, a top student-athlete of the 1950s, starring in football and baseball;
Tiara P. Malcom, EH05, 11M, a standout frontcourt player who earned a host of awards and set numerous school records during her stellar basketball career at UD;
Alexander F. "Alex" Smith, BE12, the top faceoff specialist in the history of men's lacrosse, setting records and leading the Blue Hens to national prominence;
Jeffrey M. "Jeff" Trout, EH83, who made his mark in UD's long history of championship baseball with pure hitting talents; and
Julie Van Deusen (now Savage), HS03, who in two seasons after transferring from Syracuse became the top diver ever to compete for UD.
To see photos and read more about these Hall of Famers, visit the Fan Zone section of www.bluehens.com.
Green technology on ice at arenas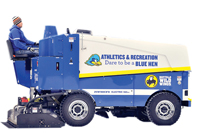 The University Ice Arenas have gone green with the introduction of a new battery-powered Zamboni to resurface ice.
"We were exploring ways to provide a more environmentally sound means to resurface ice," says James Kaden, assistant director of the arenas. "The new Zamboni proved to be a perfect option."
The Zamboni 560AC electric ice resurfacer is a technological advance, according to Jeffrey Doucette, UD Ice Arenas operations supervisor.
"Almost all of the normal operations required to maintain a perfect sheet of ice have been automated, including water control, snow breaker, snow removal augers and blade height adjustments," Doucette says. "This allows the operator to be able to perform an ice cut without having extensive knowledge and experience in order to produce a quality ice surface, which is valuable to our customers' needs."
In addition to the advancement in battery charging technology, he says, the machine uses alternating current motors instead of direct current motors, improving efficiency and the batteries' lifespan.
New scholarship benefits volleyball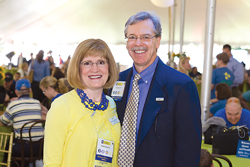 Photo by Kevin Quinlan
As president of the UD Alumni Association, Darelle Lake Riabov, EH73, has encouraged alumni to remain actively involved with the University long past graduation. Now, she and her husband, John Riabov, AG75, have made a gift to create the Darelle Lake Riabov and John Riabov Volleyball Scholarship.
The endowed scholarship will be given each season to a student-athlete who excels in the classroom and demonstrates leadership and dedication to her sport. For 2012, it was awarded to Chandler Bryant, a sophomore middle hitter and biological sciences major.
"It's a huge honor to our student-athletes and to this program to have a contribution like this," says head volleyball coach Bonnie J. Kenny. "Darelle and John clearly think very highly of our girls, of their involvement on campus and their dedication to the sport."
The Riabovs were themselves student-athletes. Darelle was a cheerleader in high school, at UD and on the professional level, and John was a four-sport varsity athlete in high school. They say they understand the commitment a student-athlete makes.
"We hope what we are doing can have an impact," Darelle Riabov says. "That's a great feeling."
Women's basketball in the record books

Senior All-American Elena Delle Donne became the all-time leading scorer in Colonial Athletic Association history on Feb. 10. She reached the milestone during a 71-64 victory over James Madison at the JMU Convocation Center, where the then-No. 20 Blue Hens withstood their stiffest challenge in more than a month.
In the contest, Delaware won its 15th straight game, remained unbeaten in league play and extended a three-year regular season win streak to 30 games. The Hens also reached the 20-win mark for the fourth straight season.
"I'm very proud of this group," head coach Tina Martin says. "They're winners. Through and through, they're winners."
Delle Donne, the second leading active scorer in NCAA Division I, upped her career scoring total to 2,677 points to break the previous mark of 2,667. She also tied the CAA all-time record for field goals, 904.
"I'm sure once I'm retired I will look back and maybe start enjoying these accolades, but until then, I'm just thrilled we won today," Delle Donne said after the game. "I really only care about winning and about this team."
Note: The UD Messenger's production schedule makes it impossible to report timely season results for many sports. Visit www.bluehens.com for all the latest news.