A step forward for Parkinson's patients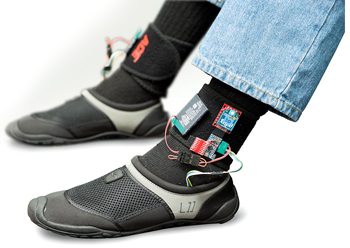 RESEARCH | Parkinson's disease (PD) is a neurological thief that robs people of control over their own bodies.
Now, the PDShoe, an ordinary beach shoe equipped with force sensors and a simple vibration system, shows promise for managing one of the most distressing symptoms of PD—freezing of gait, which is an episodic inability to step effectively.
The PDShoe was developed by the research group of Sunil Agrawal, a former professor and now a supplemental faculty member in mechanical engineering, with support from the U.S.-India Science and Technology Endowment Fund. Agrawal and Ingrid Pretzer-Aboff, assistant professor of nursing, are collaborating with neurology and physiotherapy faculty at the All India Institute of Medical Sciences in New Delhi. The team is evaluating and pilot testing the shoe, which aims to help subjects with PD walk more steadily and smoothly.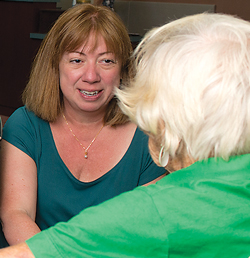 Photos by Kathy F. Atkinson
Kyle Winfree, a doctoral student in UD's Biomechanics and Movement Science program, explains that the vibration in the robotic shoe is synchronized to the heel strike and toe-off of the person wearing it, so it delivers a vibration every time the foot strikes the ground.
The researchers began with three pilot studies in India and Delaware, with a total of 27 subjects. They evaluated two measures: stride length and stance-to-swing ratio, which is a measure of how long it takes the person to complete a step from start to finish. Subjects included patients with PD and healthy individuals who served as a control group.
"We found that the PDShoes were able to discern differences between healthy and PD subjects," Winfree says. "We also observed a therapeutic effect in PD patients after just nine sessions of vibration therapy."
The researchers' main goal now is to use their pilot study findings as the basis for a larger study to further demonstrate the effectiveness of the treatment.
While a robotic shoe that can "reprogram" the mind for better motor control might seem futuristic, its foundation was actually laid in the 19th century when French neurologist Jean-Martin Charcot found that many of his patients reported an improvement in their Parkinson's symptoms after they took long carriage or train rides. Charcot developed a "vibration chair" to treat these patients, but he died before the therapy could be evaluated.
Researchers and clinicians have recently begun to revisit Charcot's idea, and there is evidence to suggest that various cuing mechanisms—auditory and visual as well as vibratory—can unfreeze the gait.
"We're not sure of the mechanism," says Pretzer-Aboff, who has extensive experience with PD patients and stroke survivors. "But if further studies show that the PDShoe works, it could have a tremendous impact on the quality of life for people with Parkinson's."
She points out that the shoe, while not curing PD, offers a number of advantages for the nearly 1 million Americans with the disease, and another 60,000 diagnosed each year, including the fact that it's relatively inexpensive and can be easily integrated into daily life.
And she sees the partnership with Agrawal as invaluable in bridging the gap between engineering and health care.
"This is where technology is meeting the real world," Pretzer-Aboff says. "I love that bridge and the challenge of figuring out how to build it."
Article by Diane Kukich , AS73, 84M