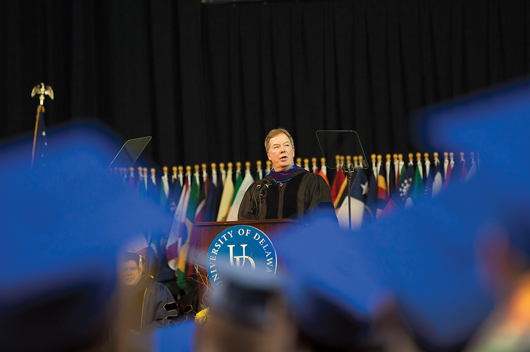 Embrace change, new graduates are told
ON THE GREEN | Lawrence F. Probst III, a UD alumnus who spent most of his successful career in an industry that didn't even exist when he graduated in 1972, spoke at Winter Commencement in January and advised the newest alumni not to fear change.
"Change is inevitable," Probst said in his address at the ceremony, where he was presented an honorary doctorate. "It is almost always a good thing, and if you're prepared for it, change can be your friend."
Probst, who earned his bachelor's degree in business administration, currently is chairman of the U.S. Olympic Committee. He urged the new graduates not to be apprehensive about moving on to the next phase of their lives.
"When I left here 40 years ago, I had no idea what I wanted to do," he said. "The video game industry, where I spent the majority of my business career, did not exist."
While family and friends questioned his sanity for leaving a promising career in consumer products to sell video games, Probst said he was attracted by a group of people he found to be "incredibly bright and compelling."
He joined Electronic Arts as the vice president of sales when the company was barely off the ground.
"It was a struggling startup in 1984, with approximately 40 employees and $8 million in revenues," Probst said. "When I retired in 2007, after 16 years as CEO, we had more than 8,000 employees, sales of more than $3 billion and a market capitalization of $18 billion." He continues to serve as chairman of the interactive-media company's board of directors.
Describing his tenure at Electronic Arts as a great adventure, Probst recounted some of the valuable lessons he picked up along the way, including how to handle mistakes.
"The key is to learn from those mistakes, make sure you don't repeat them, and move on," he said. "The way that you handle adversity or failure in your career will be the key to your success."
Probst noted that during his first 18 months as chairman of the U.S. Olympic Committee, beginning in October 2008, he directed a very unpopular management change that failed miserably and had many seeking his resignation. He called that period "the most miserable time in my whole career" but said he decided to stay with the job "and deal with the adversity."
With the help of his friend Paul Tagliabue, former commissioner of the National Football League, the Olympic Committee implemented all the recommendations of an advisory group, which resulted in favorable media coverage, a repaired relationship with constituent groups and ultimately to Probst's unanimous re-election last year to a second four-year term as chairman.
These experiences taught him that success is a team effort, he said, that value systems are important and that change can be turned into an advantage.
The Winter Commencement ceremony celebrated the newest members of UD's Class of 2012, with nearly 400 Blue Hens attending to receive graduate, undergraduate and associate in arts degrees.
Article by Jerry Rhodes, AS04