Pioneering study-abroad program marks 90 years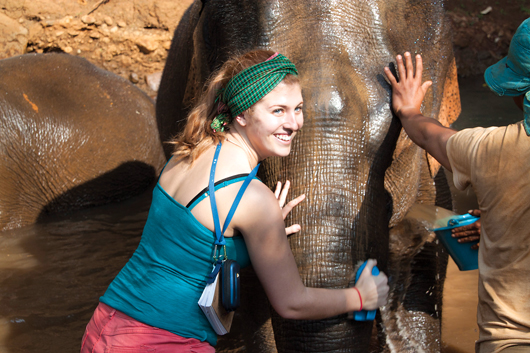 Photo by Lauren Wilson
ON THE GREEN | Throughout 2013, the University will celebrate the 90th anniversary of the genesis of its study abroad program, an innovation that rapidly entered into international education practice.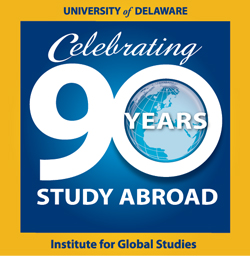 UD launched America's first study abroad program on July 7, 1923, when a group of eight Delaware students set sail for France aboard the ocean liner Rochambeau. Students in that inaugural class would spend their junior year in France immersed in learning the French language and culture—in the classroom, on travels to historic sites and in the homes of the gracious French families with whom they stayed. All the participants successfully completed their studies, and two would even win the Sorbonne's coveted diploma of French civilization.
The program was the brainchild of Raymond W. Kirkbride, a young professor in the modern languages department and a World War I veteran. He presented the idea to Walter Hullihen, then-UD president, who enlisted the support of private donors, including Pierre S. du Pont, to finance it.
The University's program was hailed nationally and internationally for its success in promoting cross-cultural education, and soon other colleges and universities began sending students to UD to participate. Those included Wellesley, Columbia, the University of Pennsylvania, Brown, Smith, Harvard and Princeton, to name a few.
"The University of Delaware made an important mark on international education 90 years ago that has since benefited countless students across the United States and overseas," says Nancy Guerra, associate provost for international programs and director of UD's Institute for Global Studies (IGS). "We invite the University community and friends around the world to celebrate this milestone with us throughout the year."
An array of events has been planned to mark the anniversary, including special activities and recognition for study abroad alumni at this year's Alumni Weekend, May 31-June 2, as well as online throughout the year.
After nine decades, the University remains a national leader in study abroad.
During this year's Winter Session, 1,044 UD students studied abroad in 50 programs on every continent but Antarctica, and at various domestic locations around the U.S., according to Lisa Chieffo, IGS associate director.
"The students going on these programs have some great experiences, from helping to deliver babies in South Africa as part of a program targeted at nursing students, to learning the Spanish language through an intensive immersion program in Panama," Chieffo says.
The University ranks third in study abroad participation among U.S. public doctoral institutions, according to the 2012 Open Doors report by the Institute of International Education. During the 2010–11 academic year, the report said, more than one-third of UD students (34.7 percent) studied abroad. Most pursued "short term" programs of eight weeks or less.