Sharp family explores legacy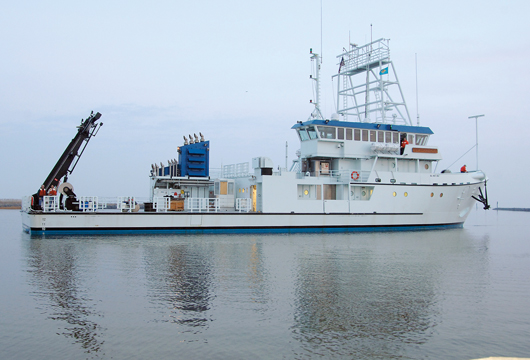 Photo by Kathy F. Atkinson
ON THE GREEN | In 1896, a 16-year-old from Lewes, Del., enrolled in Delaware College and carved his initials on a stone in front of Old College Hall. That young man, H. Rodney Sharp, went on to leave a much more lasting mark on the institution that became the University of Delaware and created a family legacy that extends down to his great-great-grandchildren today.
His enthusiasm for UD supported a major expansion of the school in the first half of the 20th century, and today facilities at the Newark and Lewes campuses bear the Sharp name. Last fall his descendants, including the youngest generation, climbed aboard the research vessel Hugh R. Sharp, named for his son, to tour Delaware Bay during a scientific cruise.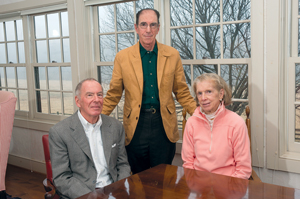 Photo by Duane Perry
"They loved it," says Bill Sharp, H. Rodney Sharp's grandson. "We saw some of the scientific experiments under way, and they took an interest in that."
H. Rodney Sharp graduated in 1900 and became a friend, brother-in-law and counsel to Pierre S. du Pont, who would become head of the DuPont Co. and founder of Longwood Gardens.
Sharp involved du Pont in philanthropic endeavors at the University, led an endowment campaign and supported the campus-wide push to erect numerous new buildings. He enlisted noted landscape designer Marian Coffin to work on The Green and served as chairman of the Committee on Planning and Development after he was elected to the Board of Trustees in 1915. His granddaughter, Donnan Sharp Jones, remembers that he had excellent taste in architecture, horticulture and landscaping.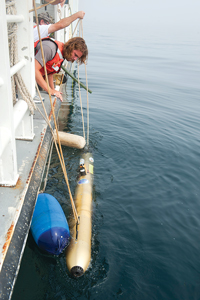 Photo by Evan Krape
"He loved to put things together," she says.
His son, Hugh R. Sharp, on the other hand, had different interests—though he did share his father's passion for the University.
"He was, I think, more scientifically minded," Bill Sharp says. "He liked to keep up with all the latest developments, no matter what was going on."
Hugh R. Sharp was commander of the Delaware Civil Air Patrol during World War II, flying along the coast searching for enemy submarines. He then flew in the U.S. Army Air Corps Transport Command until the end of the war, and President Franklin Roosevelt gave him the Air Medal for rescuing a crashed airman in rough seas off Maryland.
Like his father, Hugh R. Sharp worked at DuPont and served on the University's Board of Trustees. He helped raise funds for the University's first research vessel, the Cape Henlopen, and built a network of supporters for what is now the College of Earth, Ocean, and Environment (CEOE) called the Marine Associates.
"He was like the college's grandfather," says former CEOE Dean Carolyn Thoroughgood, who worked with him closely over many years. "He was so devoted to what we were doing."
He had an endless curiosity about the ocean, and in his teens entertained the idea of working on a schooner and cruising around the world. He enjoyed navigating by the stars at sea—before the days of GPS.
"But when GPS came out, he was the first to have one," Bill Sharp says.
Bill also had an interest in navigation and maps, becoming a geography major at UD. He remembers receiving a big relief map of the United States as a child.
"I just loved that thing," Bill says. "I thought that was really neat."
He graduated in 1970 and worked at DuPont before entering the cattle business in Nebraska, although he still lives in Pennsylvania. He recalls being intrigued by water issues and wrote his senior thesis on continental drift under the guidance of popular Department of Geography Chair Russ Mather.
Following in the family footsteps, he too served on UD's board and continued roles important to his grandfather and father: He was on the landscaping committee and involved with the Marine Associates, helping with a lecture series held at the Hotel du Pont in Wilmington.
Bill, Donnan and their brother Rod contributed to the purchase of the R/V Sharp in 2006, named in honor of their father. Donnan is an equestrienne who competed in the 1968 Olympics in Mexico and won a Pan American Games medal. Rod attended UD, earning a bachelor's degree in electrical engineering in 1960 before working in computers at DuPont.
When the family recently went aboard the research ship at the Hugh R. Sharp Campus in Lewes, the youngsters in tow were the fifth generation to connect with the University. They were fascinated by the ship's equipment and sonar, not to mention the freely accessible supply of ice cream on board to ease seasickness. Although still young, the boys expressed an interest in the ocean and exploration technology.
"Children love learning about the sea," current CEOE Dean Nancy Targett says. "We're grateful that the Sharp family has helped foster the next generation of marine scientists here at UD."
Article by Teresa Messmore