Businessman gives future entrepreneurs a boost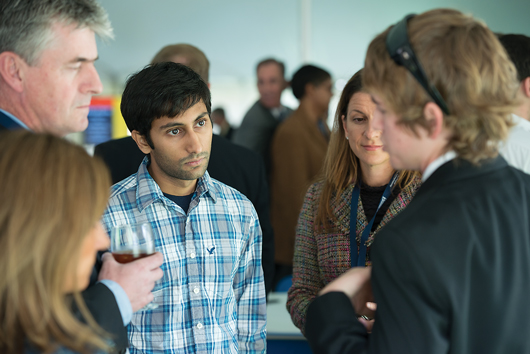 Photos by Evan Krape
ON THE GREEN | As long as American business has existed, so have entrepreneurs. Take Benjamin Franklin—a businessman who invented products like bifocals and the lightning rod, published Poor Richard's Almanac and created America's first free library.
Yet while entrepreneurs have survived and thrived since America's early days, entrepreneurship education has grown only in recent decades. And with that growth has come a question: Can entrepreneurship be taught?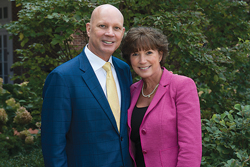 If you ask Charles W. Horn, AS75, the answer is yes.
"The field of study of entrepreneurship is very young, and much is to be discovered about what makes entrepreneurs successful," says Horn. He and his wife, Patricia, made a commitment to UD last
fall to support the Horn Program in Entrepreneurship, an interdisciplinary, University-wide effort to transform and expand entrepreneurial studies.
"Entrepreneurs are great learners and even better at applying what they learn," Charles Horn says. "Everyone and every business are different, yet certain principles apply to almost all businesses. If new entrepreneurs have the right education in entrepreneurship, their chances for success are greatly increased."
Entrepreneurship education at UD had not yet "hatched" when Horn was a student, so close observation of the marketplace, the enjoyment of making his own money and a personal habit of thinking about business ideas that were needed or missing helped him find early success.
The self-made businessman admits, though, that there are no easy answers. While today Horn has five early-stage companies in full launch mode, he didn't get there without learning firsthand the challenges of building a new company, including executing a core idea and developing proof of concept before investing too much in people and partners.
He also learned the importance of treating employees fairly and acknowledging their importance, he says, and developed a personal management practice he calls "the four R's": recognition, respect, responsibility and rewards.
"Recognition for achievements is a motivating factor even above financial compensation," Horn says. "And if you treat people with respect for who they are as a person and valuable contributor, give them a lot of responsibility and then reward them for their efforts and successes, people will outperform even their own expectations of themselves."
This formula has led his companies ScriptSave and HealthTrans to be named Inc. magazine 500/5,000 companies six and two times, respectively, and ScriptSave to be recognized in various "Best Places to Work" and "Most Admired Company" lists over the years.
Despite these lessons he learned by doing, Horn says, "I wish entrepreneurship education was available to me when I was thinking about my career because it would have made life a lot easier."
It was that wish, combined with his belief that entrepreneurial education is a great opportunity for universities to conduct research and support growth, that led the Horns to make their gift to UD, he says.
"I know the administration and faculty are fully committed to developing people who have the skills to start companies and commercialize innovation, create new jobs and create new opportunities," Horn says. "The University can be the center of new economic growth in Delaware and beyond, through collaboration with all of its colleges as well as the business community, high schools and local government."
Housed in the Alfred Lerner College of Business and Economics, the Horn Program builds on an established foundation of entrepreneurial studies at UD by adding several new components. They include degree programs at the bachelor's, master's and graduate certificate levels; the Startup eXperience, a stand-alone curricular program in which students attempt to launch high-potential ventures; the Diamond Challenge for High School Entrepreneurs; and a comprehensive entrepreneurial resource exchange.
The initiative also includes the relocation and expansion of the Venture Development Center, which serves as a hatchery and incubator for student businesses.
"Entrepreneurship affects all aspects of human activity, while entrepreneurial knowledge and skills promote success in virtually all possible career paths," says Dan Freeman, associate professor of marketing and director of the Horn Program. "Thanks to the generosity of Charlie and Patty Horn, all UD students now have access to great opportunities for entrepreneurial education."
And for those aspiring entrepreneurs who take advantage of the opportunities and resources provided by the program, Horn offers some advice:
"The essence of an entrepreneur is one of adventuresome pursuit of the unknown, to create something that is good for society out of nothing. Find mentors, learn everything you can about the marketplace needs, and take advantage of the outstanding program offerings at UD to associate with like-minded people and gain a significant competitive advantage."
Article by Kathryn Meier, AS04, BE06M