ON THE GREEN NEWS BRIEFS
Formal instruction for Spanish speakers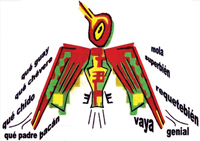 A new class, "Spanish for Heritage Speakers," is being offered by the Department of Foreign Languages and Literatures, designed for native Spanish speakers who lack formal training in reading and writing that language.
"The University has many students who are native Spanish speakers, but are only able to take [courses] that are meant for non-Spanish speakers," Asima Saad Maura, assistant professor in the department, says.
While native English speakers take English classes throughout their life, continually refining their grammar, spelling and structure, many Spanish speakers only have the option of taking courses geared to Spanish as a secondary language.
"Speaking is different from writing," Saad Maura says, adding that many who can speak a language fluently tend to write phonetically. "Take the word cielo—many students will write it as sielo, and some will even confuse it with suelo. The first means sky, and suelo means soil."
Students' cultural roots will be a major focus of the course, which will look at literature from different countries. The students will have the opportunity to share their heritage with their classmates through oral and written presentations as well, Saad Maura says.
New provost named to lead academics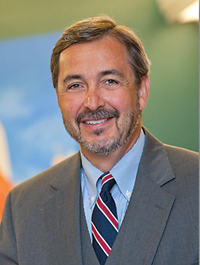 Domenico Grasso, vice president for research and dean of the Graduate College of the University of Vermont, will become the next provost of the University of Delaware in August.
UD President Patrick Harker says Grasso "brings an impressive portfolio of experience, insight and leadership to this post" and describes his career as "marked by thoughtful and creative initiatives, reflecting a global viewpoint that impacts all academic disciplines."
Grasso, who earned his doctorate in environmental engineering from the University of Michigan, previously was Vermont's dean of the College of Engineering and Mathematical Sciences.
The provost is the University's chief academic officer, responsible for the administration of all programs of instruction, research and service and for facilitating the success of the faculty and students. Reporting to the provost are the deans of the seven colleges, the deputy provost, the vice provost for research, the vice provost for libraries, the vice president for student life, the vice provost for graduate and professional education and the associate provost for administration and enrollment services.
Main (Street) event promotes growth of Elkton Road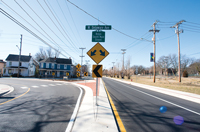 The city of Newark likes Main Street so much that officials have extended it, renaming a section of Elkton Road as South Main Street. The renaming, for the section of road between West Main Street and West Park Place, took effect Jan. 1.
With Main Street traditionally seen as the downtown center, city officials said Elkton Road was often considered the place where downtown ended. In actuality, Elkton Road has been part of downtown since City Council expanded the boundaries of downtown Newark in May 2007 to include both sides of Elkton Road from West Main Street to Apple Road and more recently to West Park Place. As a result, properties along Elkton Road began to develop as an extension of Main Street, with the addition and expansion of numerous businesses popular with UD students.
City Council members say they believe changing the name will add to the success of the area by associating it more closely with the city's national award-winning Main Street and will foster additional growth.
Marine policy work goes global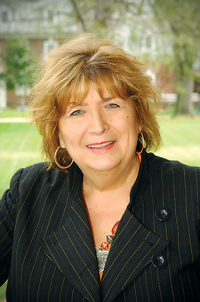 Researchers at the Global Ocean Forum, housed in the College of Earth, Ocean, and Environment's Gerard J. Mangone Center for Marine Policy, co-organized the second Asia-Pacific Economic Cooperation (APEC) Blue Economy Forum with China's State Oceanic Administration in Tianjin, China, in December.
The Blue Economy concept, which emerged at the recent United Nations Conference on Sustainable Development, has become a prominent area of focus at the global level. It seeks to integrate environmental and ecological issues related to the ocean into economic frameworks to support prosperous economies underpinned by healthy and productive marine ecosystems.
The Blue Economy is seen as an innovative approach to achieving sustainable development and taking advantage of new opportunities from the ocean to support social and economic development. The forum brought together more than 200 ocean leaders from 15 APEC member economies, related Asia-Pacific countries and 10 international organizations.
Director Biliana Cicin-Sain and associate scientist Miriam Balgos, both of UD's Center for Marine Policy, worked closely with the Chinese government and the APEC Secretariat to co-organize the forum.
"It is essential that we pursue the Blue Economy in a sustainable way and with poverty alleviation as a central goal," Cicin-Sain says.
Value and quality earn high marks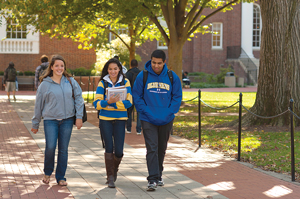 The University has been named a "best value" in two recent publications—an annual list by The Princeton Review and a similar ranking in Kiplinger's Personal Finance magazine's February issue.
The 2013 Princeton Review list designates 150 colleges—75 public and 75 private—as best values based on assessments that examined more than 30 data points covering academics, cost and financial aid.
Kiplinger's newest list of the 100 best values in public colleges highlights "four-year institutions that deliver a quality education at an affordable price." It places UD in the top 100 "thanks to its high four-year graduation rate, low average student debt at graduation, abundant financial aid, a low sticker price and overall great value" and ranks it 29th for in-state students.
And the University's online graduate nursing program was recently ranked No. 36 among 101 institutions offering accredited graduate degree programs in nursing by U.S. News and World Report. Schools were selected for the magazine's 2013 Best Online Graduate Nursing Programs section based on such factors as admissions selectivity, graduation rates and academic and career support services offered to students.
Project encourages primary care providers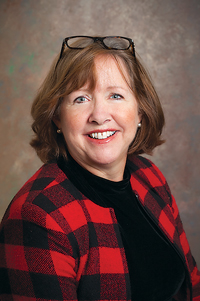 The School of Nursing has received a two-year, $675,000 grant from the U.S. Department of Health and Human Services to support primary care nurse practitioner (NP) students. The grant was awarded through a program that seeks to increase the number of advanced practice nurses trained to practice as primary care providers.
"Ninety-five percent of current NP students are enrolled part time," says Barbara Harrison, associate professor and NP program coordinator in the School of Nursing. "This project will provide funding for full-time tuition, fees and reasonable living expenses. Thus, part-time students can attend full time and graduate sooner.
"The long-term goal of the project is to increase the number of primary care nurse practitioners who are delivering health care in Delaware and the surrounding area."
The new grant "underscores our dedication to doing our part to alleviate the primary health care provider shortage while expanding our efforts to serve diverse and vulnerable populations," says Kathleen Schell, associate professor and director of the School of Nursing. "NPs increase access to cost-effective, high-quality care—a key factor in improving individual and public health outcomes."
Student Melanie Hiester plans to work with underserved communities. "This scholarship has made it possible for me to [pursue] my lifetime goal," she says.
Mills Chair created to reward talented women
Michela Taufer, a computer scientist and associate professor at UD, has been named the David L. and Beverly J.C. Mills Chair of Computer and Information Sciences.
The new position is funded through a gift from David L. Mills, professor emeritus, and Beverly J.C. Mills, AS98. It is meant to reward exceptional young female faculty talent in the departments of Electrical and Computer Engineering or Computer and Information Sciences.
"If we're not utilizing women engineers, we're not utilizing half the brain power," says David Mills, who was a professor of computer engineering and of computer and information sciences at UD from 1986-2008.
Taufer joined the faculty in 2007 as an assistant professor of computer and information sciences. Her research focuses on software applications in computing, cloud computing, performance analysis and modeling multi-scale applications. In a recent project, she collaborated with researchers from Stanford University and the U.S. Geological Survey to implement a new network of seismic sensors aimed at arming communities with early earthquake detection and warning capabilities.
"I feel fortunate to work in an environment at UD where women are empowered to succeed and thrive, and I am grateful to Dr. and Mrs. Mills for their exceptional generosity," she says.
David Mills' Network Time Protocol was essential to the early development of the Advanced Research Projects Agency Network, which led to the modern Internet. He continues to teach and lead research sponsored by such agencies as the NASA Jet Propulsion Laboratory, Defense Advanced Research Projects Agency and National Science Foundation.
Beverly J.C. Mills earned a bachelor's degree at UD in 1998. In addition to singing and teaching music, she enjoys judo and motorcycle riding.
New online MBA offers flexible format
In an effort to make business education more accessible, the Alfred Lerner College of Business and Economics has launched an online master of business administration (MBA) degree program.
The online MBA is offered with the marketing, recruiting, technology and student retention services of Academic Partnerships (AP). It is designed to enable the college to better achieve its academic mission by providing high-quality business education in the flexible format required by a growing segment of the student population.
"The landscape of higher education is changing as a result of new technology and the resulting changes in students' learning styles," says Rick Andrews, deputy dean of the college. "By using a new delivery modality, our MBA will be accessible to working professionals who travel frequently, to members of the U.S. military and to others who, for whatever reason, cannot make it to campus on a regular basis to participate in the traditional MBA."
Students will complete 48 credits over the course of eight seven-week terms. Courses will consist of micro-lectures in multimedia format; readings, problems, cases and discussion board participation; experiential learning via corporate simulation exercises; and individual and team projects and assignments.
"This is not a diluted product, half an MBA or 'MBA lite,' but a full MBA tailored to the needs of a different target audience and offering the same quality Lerner College MBA that our residential students receive," Dean Bruce Weber says.
AP partners with universities worldwide to convert traditional courses into an online format and to market their new online degree programs.
Young scholar award recognizes research, teaching
Maciek R. Antoniewicz, DuPont Young Professor in chemical and biomolecular engineering, has received the 2012 Gerard J. Mangone Young Scholar award.
Named in honor of a distinguished professor, the award is given annually to promising and accomplished young faculty, with the recipient chosen by fellow faculty members who have received the Francis Alison Award, the University's highest faculty honor.
Antoniewicz was selected for his distinguished accomplishments in research and his promise as a leading scholar and teacher, according to Donald L. Sparks, S. Hallock du Pont Chair in Plant and Soil Sciences and chair of the Francis Alison Society. "Prof. Antoniewicz joins a group of previous Young Scholar recipients who are making major contributions in their areas of expertise," Sparks says.
Antoniewicz, who also is affiliated with the Center for Bioinformatics and Computational Biology, has gained international recognition as an emerging leader in the area of metabolic engineering and biological systems, research that underlies much of biomolecular engineering.
A faculty member since 2007, he received a National Science Foundation Career Award in 2011. He was named a DuPont Young Professor and earned the James E. Baily Young Investigator Award, which annually recognizes the best publication in the metabolic engineering field, in 2008. Last year, he was named a UD Outstanding Junior Faculty member in the College of Engineering.
Antoniewicz is currently working on key engineering science necessary for biotechnology to achieve the promises of clean energy and mitigation or elimination of disease. In particular, his research combines advanced experimental techniques with metabolic flux modeling to more deeply understand fundamental metabolic pathways. Broadly, this work may lead to new tools and techniques for quantitative examination of genome-scale models of organisms with important applications in biotechnology and medicine.