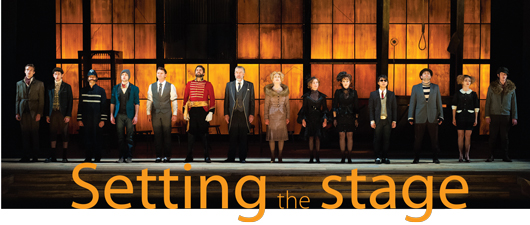 Behind the scenes of the University's successful professional acting company, the Resident Ensemble Players (REP), a team of workers is responsible for making productions come to life.
Months before opening night, the production crew begins meticulously planning the elaborate sets, costumes and props that audiences see on stage. Keith Davis, technical director for REP, says most people would be surprised by the sheer amount of time, labor and costs that go into the technical production of a show.
"When people see a wall on stage—like the one used in The Threepenny Opera [in January]—they think, 'Oh, it's just a wall,' but it's expensive and requires a lot of time to build," he says. "Our crew is small and lean, but we get a lot done."
Kelly McKinley, the company's prop master, says her department spends as many as 90 hours a week building and procuring props for a show.
"A prop is a steaming cup of coffee that won't stain if it's accidentally spilled, a bloody knife that is safe to hold against an actor's skin, bubbles in a bathtub, a Victorian chair that must break in the same way every time it is kicked, or a newspaper from 1929," McKinley says. "It is surprising what constitutes a prop."
Designing costumes can be a challenge, too.
"Every time we begin a new production, we discover a new aspect or element," says Barbara Hughes, the director of costume production. For instance, when building Gertrude's dress for Hamlet the costume production team ran to Home Depot to pick up PVC pipes in lieu of steel boning. Other times, the team has had to work with or create new fabrics and mechanized costumes—including a memorable one for a woolly mammoth.
With so many different departments involved in the production of the show, the entire crew must communicate continuously.
"I often coordinate overlapping items with other departments," McKinley says."For example, the costume department designs the belt, and props provides the sword. Or the tech department builds windows, and the prop department dresses them with curtains."
Members of the production crew agree that little malfunctions—"the nature of the business," says Davis—are bound to happen during shows, but most rough edges are smoothed out well before opening night.
"Since we have become a professional theatre, we anticipate any issues and work through them during rehearsals," Hughes says.
Article by Kelley Bregenzer, AS12