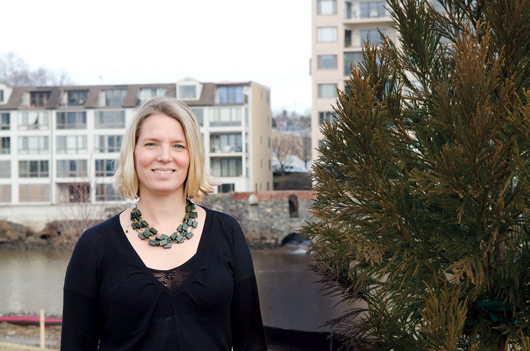 Photo by Danielle Quigley
Ideas take root for greener cities
ALUMNI | It turns out you don't have to leave the city to see a forest. Nowadays, specialists like Mandy Tolino make it their job to add plants and trees to green up the gray concrete jungles.
Tolino, AG04, AS09M, who has been working in various capacities for the city of Wilmington, Del., for the past three years, describes an urban forest as "all of the trees that are within a developed area."
In her current job as an urban forest administrator for the city, her duties vary. Whether taking calls from residents interested in planting or taking down a tree, reviewing plans for street trees that might be affected by development projects, making suggestions to designers or working as the liaison for the City Tree Commission, Tolino always has the same goal—to help Delaware's largest city more effectively plant and preserve trees.
She points to evidence that trees are a best practice in managing stormwater and that they help fight global warming. And, with increasing numbers of Americans living in urban areas, she says, "We're going to need more people who have the technical abilities to effectively communicate with engineers and other professionals on how to make cities green and livable."
Tolino's interest in urban forestry started as a UD student. She earned her bachelor's degree in plant science and then, while doing graduate work in public policy, decided to conduct research on forestry management in Wilmington.
As part of her job now, she works to convince citizens to plant the types of trees that will provide the biggest ecological benefits for the available space.
"A lot of times, even if space is available, people don't want to incur the risk of planting a large tree because they're afraid it's going to get too big and fall on the house or drop leaves into their gutters," Tolino says. "But you get a lot of benefits from planting bigger trees." For example, she says, an oak will mature to 100 feet tall and intercept more than 12,000 gallons of stormwater per year, while reducing atmospheric carbon by almost 1,000 pounds. In contrast, a crape myrtle, which will mature to 20 feet tall, intercepts only 300 gallons of stormwater and reduces carbon by 62 pounds.
Another challenge of urban forestry is to find an adequate space to plant some of these larger trees, but Tolino describes some novel solutions to the problem.
In Wilmington's Rodney Square, surface space is limited, so "Silva Cells" have been installed—underground blocks filled with soil. "The roots can then take advantage of the non-compacted growing space underneath the surface, while still maintaining the walking surface for pedestrians above," Tolino says.
Cities have also installed what are known as "stormwater tree trenches," which look like regular trees on the sidewalk surface, but underground the roots are part of a storage system that treats and stores city stormwater before it can overwhelm the sewer system.
Tolino says it is imperative to add more trees to the urban landscape: "In cities, you really have to look at alternate technologies in order to plant trees that are going to survive and do well in these high-use areas."
Article by Adam Thomas