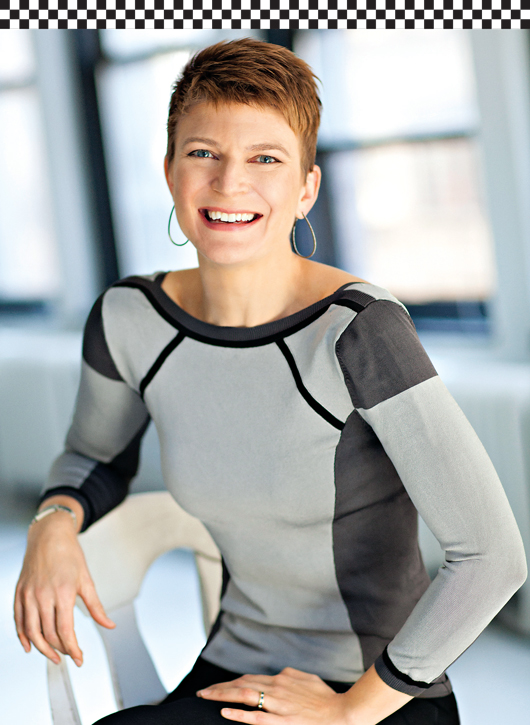 A need for speed
ALUMNI | When an errant driver cuts Ingrid Steffensen off in traffic near her home in tony Short Hills, N.J., she never ramps into road rage.
She saves it for the track.
Her ride is a slick yellow Lotus with a spoiler in the back, a splitter in the front, a lowered suspension, grippy tires and compound brake pads.

Right here you're probably wondering if this is the same Ingrid Steffensen, AS94PhD, with whom you shared an art history graduate class. Is this the former visiting professor at Bryn Mawr? The author of two architecture books? The same person who once posed for the cover of a local magazine holding a French horn that obscured one third of her body?
Yep, that same Ingrid Steffensen now spends her weekends thinking things like, "Don't brake until you see the face of God." (That's the subtitle of her autobiographical book, Fast Girl.)
One thing caused Steffensen to stretch from a suburban intellectual who eats all her fiber, slathers on sunscreen and feels guilty when she buys nonlocal strawberries to a racer who recounts her adventures in book chapters such as "The Care and Feeding of the Speed Demon."
That one thing was love.
Her banker-husband, Jeff Bruce, had been driving his BMW M3 in club races for seven years, although she'd always given the sport a frosty reception. There was plenty not to like: It was noisy, stinky and risky, plus drivers fill their cars with fossil fuels twice a day.
"I didn't make that much of a secret of it—I thought the whole thing was kind of stupid." she says.
But, she had followed him into running, and then mountain biking, so one weekend four years ago, when their daughter Emma was off with her grandmother, she followed him to a racing class at Watkins Glen International Raceway in upstate New York.
"The whole time I thought, 'Man, this is really stupid! What am I doing here?' and my husband was saying, 'You don't have to do this, you know.'"
Her racing class instructor took things step by step. With almost a paint-by-numbers approach, he tutored her to make a 90-degree turn while traveling at three-digit speeds.
Two days of classes and track sessions later, she had driven in excess of 100 miles an hour—a "buck" in track talk.
When she wobbled out of the car, Steffensen had two thoughts: "I don't have to go back out there again" and "Hot damn, I'm still alive." It was on the ride back to suburbia that she realized, "I must do this again."
The professor was all in.
Few people who knew her saw it coming. When she wrote a book about her adventures, her former babysitter showed up at her book signing and reminded her that she was too cautious to even climb a tree as a child. There were telltale signs in her distant past, though, like taking her grandma's Thunderbird to 100 on prom night.
What attracts a self-described control freak who completed rigorous academic degree requirements to a sport that requires nothing but good reflexes, steely nerves and opposable thumbs?
For Steffensen, and hundreds of professionals who pay about $400 a weekend to fill club racing's ranks, it's about being a novice again.
"Try something that's out of your comfort zone, and see what things you are capable of," she recommends. "Especially if you're somebody with a Ph.D. who's used to being in control of everything, it's a real eye-opener being on the receiving end again. It's a good reminder to respect someone who wants to learn."
While she doesn't dismiss the danger inherent in any sport you do at 120 miles an hour, Steffensen says there's much focus on safety in club racing. Drivers use their own cars, so they want to be able to bring them home after the races.
In her daily life away from the track, she says, she sees drivers texting, sipping lattes, yelling at their children, applying makeup—and even reading. "I swear I feel safer on the racetrack than I do on the Garden State Parkway," she says.
Article by Kathryn Canavan