Beyond a handout
Prepaid cards can help the homeless buy food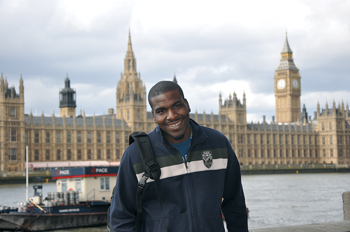 ALUMNI | On a single January night, 633,782 people were homeless in the United States, according to the federal Department of Housing and Urban Development (HUD). Of that number, 62 percent were individuals, while the remaining 38 percent represented homeless families. Though these numbers are on the decline, down nearly 6 percent since 2007 according to HUD, the need for help continues to be great.
It's a problem that got UD alumnus Jed JohnHope thinking. With fewer people carrying cash and sharing their "spare change" with the needy, what will the next generation of homeless do? How will they survive?
"I thought, 'Someone needs to solve this problem; it may as well be me,'" says JohnHope, EG03, whose degree is in chemical engineering.
So he created Mercy Cards, a prepaid gift card that can help the needy purchase food. Though still in its infancy, it's an innovative idea that JohnHope hopes will revolutionize how the world helps the homeless.
Here's how it works. A citizen buys a Mercy Card that can be preloaded with cash, much like today's gift cards. The card, which is embedded with technology that limits redemption to restaurants, is given to a needy recipient or to a participating Mercy Card partner for distribution. The recipient redeems the funds for food, and when funds are depleted, the Mercy Card is collected by the retailer and returned to the agency for reuse.
"I felt there had to be a solution that would marry today's electronic payment technology with people's desire to take an active role in helping their neighbors," JohnHope says.
The idea grew out of an October business plan competition at Northwestern University's Kellogg School of Management, where JohnHope is studying for a master's degree in business administration. While his idea didn't win the fast-pitch competition's big prize, JohnHope pursued it anyway, because he was convinced it was an idea that could help people.
"A common misconception is that the average homeless person is the individual you see standing on the street corner, but many homeless are just people who've fallen on hard times and are working to regain their lives," he says.
Early last winter, his story appeared in a Chicago Sun Times article, and JohnHope calls the response "phenomenal."
"People have two major barriers to giving: They rarely carry spare change, and they don't want to support negative habits such as drug or alcohol use," he says. "I feel like if we can solve those two problems, people will be more willing to give."
Currently based in Chicago, JohnHope says his immediate goal is to get the prepaid cards into the hands of homeless and help them have a meal for the day. His larger goal is to get people off the streets, which is why he partners with shelters to deliver Mercy Cards to needy recipients.
If the idea is successful, JohnHope plans to expand the technology to include transportation, another barrier to reintegration for the homeless. Ultimately, he'd like to see Mercy Cards go national, perhaps even global.
"There is a large population out there that we can help serve," he says.
Article by Karen B. Roberts, AS90