A homecoming tradition returns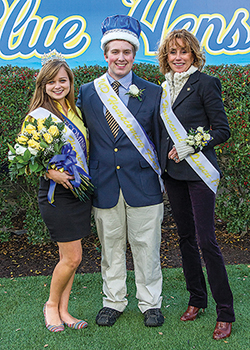 ALUMNI | During Homecoming 2012, seniors Sam Katz and Jen Lowe were voted Homecoming King and Queen by the student body and University community, reviving a UD Homecoming tradition that had taken a 15-year hiatus. Katz, majoring in medical laboratory science, and Lowe, with a major in marketing and a minor in Spanish, share their feelings about being crowned Homecoming King and Queen and their thoughts about this renewed University tradition.
Q: So, how does it feel to be the first University of Delaware Homecoming King and Queen in nearly two decades?
Sam: It feels very special to win. It was a self-esteem booster.
Jen: It was great! I thought it was a really cool experience to bring back a past UD tradition. I hope it continues in the future.
Q: How did it feel to be crowned on the football field at Homecoming by Valerie Biden Owens, Class of 1967, who was the 1965 Homecoming Queen?
Sam: When I met [Owens], I thought she was the coolest person ever. She made a joke that we can call her the "Queen from the Past" but that we can never call her the "Old Queen," which was really funny. She was a lot of fun.
Jen: I thought it was great. She was incredibly friendly, and I really like being able to meet someone who was the Homecoming Queen in the past and immediately having that bond with her. I really liked that Alumni Relations invited her back to be a part of this tradition.
Q: How do you feel the tradition of the Homecoming Court has changed and evolved from half a century ago?
Sam: Back then, Homecoming Court was formal. I think it is much less formal now, and I think it's more diverse now. It used to be that the head of the football team would be the Homecoming King. Now there are people in the Court from all walks of campus.
Jen: I liked the process of Homecoming Court this year and getting different students from very diverse interests. I like that the student body followed the Homecoming process and the countdown to Homecoming. I thought it was done well, and I enjoyed being a part of it.
Q: The process to apply and campaign for the Homecoming election was very rigorous. Tell us a little about your strategy and what you felt was important to the voters—your fellow students—when electing a Homecoming King and Queen.
Sam: I think a lot of people paid attention to branding. The biggest thing that people wanted was friendliness in a Homecoming King. I always try to be nice to everyone around me and get to know their names.
Jen: I think most of my drive was including all of the University, not just sports, and appealing to alumni as well as students. I keep in touch with a lot of alumni. No matter where you've gone or where you plan on going, it's good to come back and reunite.
Q: What are your post-graduation plans?
Sam: I am working for eight months and using that money to travel to Europe. Then I will apply to medical schools for my M.D. in neurology or pathology, and stay in a hospital setting.
Jen: I am looking at different marketing jobs, either in PR or communications or brand management.
Q: How do you feel about becoming alumni after graduation? How do you plan to stay involved with the University and your fellow classmates after you graduate?
Sam: I think it's really important for everyone to stay involved with the University. There are a lot of cool activities through Alumni Relations. It's important to keep improving the University for future students. It would be nice for students to have alumni to talk to. I am planning on donating money to the University, and I'll stay in contact with my professors and visit campus.
Jen: I am sad to leave here, but I have a great friend-base of alumni already. I am excited to be able to go out and find other alumni in the work environment or through other connections.
Q: Now that you are upperclassmen, what advice would you give to UD freshmen?
Sam: Stay true to who you are, but learn to go with the flow. You never know where college is going to take you, so be open to trying to new things. Let college help you grow. I am surer of myself now from when I started college. There are so many opportunities at college, and it helped me learn what I really liked to do.
Jen: Get involved in a couple of different things at the start of college because you will grow into your interests. A lot of the opportunities on campus help you career-wise, or they help you develop your interests. There are a lot of perks to being in a student organization or in a sport. Getting involved is a huge part of making the college experience what you want it to be.
Q: What is one characteristic of the University that you find special and that you would use as a reason to convince a high school student to attend UD?
Sam: University of Delaware's willingness to try new things is a great characteristic. If you want to start a new club here, it's really easy and you get a lot of support for it.
Jen: I can tell you that I am particularly drawn to the University's aspects that make it feel like a real college, like it's a big school that has the diversity and the camaraderie, but it's small enough to walk down the street and run into my friends and have the feel of a tight community. It's that balance that makes UD unique.
The Office of Alumni Relations is the chief liaison between the University and the worldwide alumni body of more than 160,000 living alumni represented by the UD Alumni Association. Alumni Relations coordinates major events such as Alumni Weekend, Homecoming and prestigious awards. The office also manages all volunteers and events for the regional alumni clubs across the country and is charged with creating new and exciting programs while maintaining current traditions. For more information, visit www.UDconnection.com.