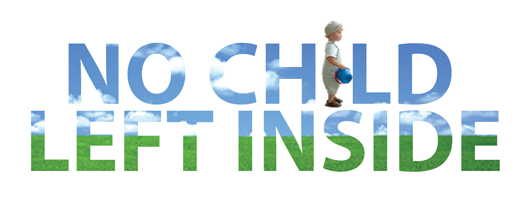 Even in urban areas, outdoor destinations and fun abound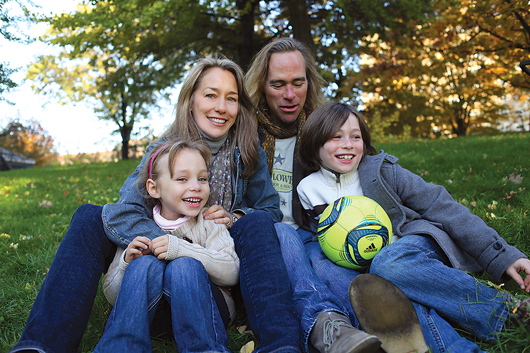 ALUMNI | To many people, being outdoorsy means lacing up their hiking boots or grabbing a mountain bike to hit the trail in undisturbed nature—and making an escape from the city.
Yet Cheryl de Jong-Lambert, AS88, describes New York City as a great place to be outside, especially with children. The UD graduate-turned-New Yorker trekked to 100 destinations in and around the metropolis, family in tow, to research her new book, Outdoors with Kids: New York City. From historic parks to playgrounds to former urban wastelands transformed into esplanades, the book covers locations both well known and off the beaten path.
"You can, even if you live in the city, get your kids outdoors," she says. "There's no reason not to."
The book was inspired by the No Child Left Inside movement, which encourages environmental education and outdoor excursions to balance the time kids spend watching television or playing with electronic devices. Working with publisher Appalachian Mountain Club, de Jong-Lambert and her co-author husband, William, compiled a list of spots where families can connect with nature in unstructured settings—meaning no zoos or museums with outdoor components.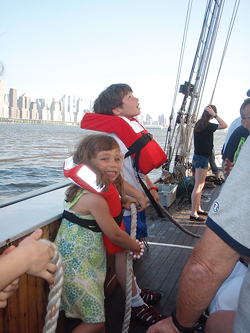 While other New York guidebooks typically include recommendations for restaurants, cultural attractions and shopping, de Jong-Lambert says hers is the first focused on outdoor exploration of the city. Each description gives the highlights and background of a scenic locale and provides helpful tips like where to picnic, sip from a drinking fountain or find a restroom.
Some of the areas featured are predictable but hard to leave out: Central Park, Ellis Island, the Brooklyn Botanic Garden. Others are hidden gems or relatively new. The Jamaica Bay Wildlife Refuge in Queens, for example, is a national park prime for bird watching that many locals do not know about, de Jong-Lambert says. Brooklyn Bridge Park opened only a few years ago, a waterfront rehabilitation project converting old piers into green space.
"New York is going through this tremendous outdoor renaissance," she says. "It's really been great to watch the city change so much in the 10 or 12 years that we've been familiar with it."
A New Jersey native, de Jong-Lambert studied journalism and Spanish at UD and became a reporter before serving in the Peace Corps in West Africa. She has worked as a writer her entire career, moving to New York in 1999 and currently employed at Mount Sinai Medical Center as editorial director.
Her guidebook is geared toward her fellow New Yorkers, with simple maps and brief driving and subway directions assuming some reader familiarity with the city. However, adventurous nonresidents may enjoy checking out many of the spots while in town for a day trip or weekend. Who knew that Amelia Earhart's final flight departed from Brooklyn's Floyd Bennett Field? Or that there is a natural forest in Manhattan?
De Jong-Lambert's advice for families making these kinds of outings is to cater the trip to the children's ages, bringing along snacks, drinks and supplies and letting small kids nap in strollers to extend the day. The city almost always has a deli or drugstore nearby to grab forgotten items, she points out, and children come away knowing more about nature and their surroundings.
"Kids are really hardy and resilient, and also they're just so engaged," she says.
Article by Teresa Messmore
Breath of fresh air in New York City
Here are Cheryl de Jong-Lambert's suggestions for some favorite spots where families can enjoy the outdoors while visiting the city.
Riverside Park, Manhattan
Once home to a trash heap in the early 1900s, today this Upper West Side park is full of monuments and playgrounds. A stone wall lines the upper level promenade, and a dirt path leads visitors farther in toward the Hudson River.
General Grant National Memorial ("Grant's Tomb"), Manhattan
Modeled on the tomb of Mausolus, a Persian Empire governor, paved surfaces around this structure attract skateboarders, unicyclists and children practicing riding scooters and tricycles.
Morningside Park, Manhattan
With a high elevation in the city at West 110th Street and Manhattan Avenue, this park was named for the sunrises that can be seen there over Harlem. Set along a cliff, the park boasts a pond and a waterfall, and there are playgrounds, basketball and handball courts, and designated barbecue areas.
Pier 96: Downtown Boathouse, Manhattan
Located along the Hudson River at West 55th Street, this boathouse opened the river to individual use in 1995 and offers free kayaking run by volunteers in pleasant weather.
Inwood Hill Park, Manhattan
This is the only un-landscaped park in Manhattan, featuring a preserved salt marsh, rocky ridges left by glaciers, and trails and bike paths that lead to old-growth forest and the riverfront.
Flushing Meadows Corona Park, Queens
Another former dumping ground, this park was reinvented into the site of the 1939 and 1964 World's Fairs with impressive monuments from those events still in place. A lake—New York City's largest—is popular for boating.
Jamaica Bay Wildlife Refuge, Queens
Accessible by subway, this area has never been paved over and represents the largest open space in New York City. A trail is good for bird watching, and the refuge has two different loops. "Oddly, it's a hidden gem," de Jong-Lambert says. "Here it is part of the national park system, but locals don't think to go there or don't know about it."
Brooklyn Bridge Park, Brooklyn
The first section of this under-construction, 85-acre park opened in 2010 along the East River waterfront. There are playgrounds and free seasonal boating with young trees growing nearby. "Just to see the whole birth of the park is really fascinating and wonderful in such a huge city," de Jong-Lambert says.
Marine Park, Brooklyn
Located at the site of a former flour mill, this is the largest park in Brooklyn—at 798 acres—and good for spotting numerous bird species including loons, Canada geese, egrets and herons.
Floyd Bennett Field, Brooklyn
Named for a Brooklyn aviator, this former airport now has the city's only public campground. There are abandoned airplane hangars and runways, hiking trails and an archery range. "It's an interesting example of nature reclaiming the land, although that land had been marsh and a lot of it didn't exist before they built the airfield," de Jong-Lambert says.