Not the retiring type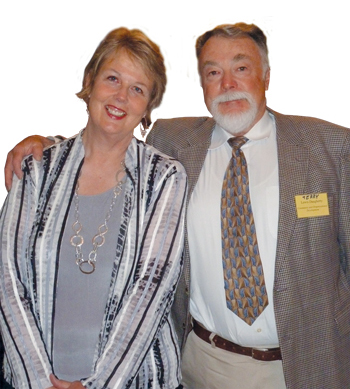 ALUMNI | Peace Corps service is typically thought of as something young people do before starting a career, but for a couple of UD alumni, it's been a lifelong ambition that took decades to come to fruition.
As newlyweds, Lewis T. (Terry) Daugherty and Alice Jaquette Daugherty, both AS74, considered joining the Peace Corps but were discouraged by their families. Over the next 35 years, the Newark, Del., couple pursued careers and family. Terry found success in finance and business planning, while Alice worked for DuPont before raising a family and later joining UD's English Language Institute in 1999. But as they neared retirement, the idea of living in a hut for two years still sounded like fun.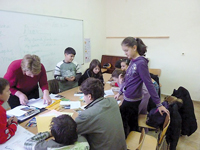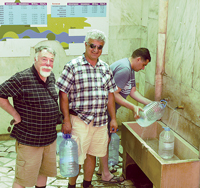 "We were ready for service, adventure and new horizons," says Alice, who concedes the idea also was inspired by the movie The Bucket List.
So the couple departed for Vratsa, Bulgaria, in 2010. Alice taught English to grades 5-12 at the arts school, and Terry worked with the Chamber of Commerce and with industry, writing grants, teaching business planning and training colleagues and underemployed college graduates in the community on the finer points of Excel.
"Service takes many forms," says Terry, whose degree is in political science. "Our two children were the biggest contribution to the future we're likely to make, but being part of an organization with positive values and the opportunity to learn has always interested me."
For Alice, who majored in French, overcoming the language barrier was the most challenging and gratifying part of her Peace Corps experience. She and Terry took language classes, studying most nights after dinner and passing their exam on the first try.
Terry appreciates how the Peace Corps empowers volunteers to find a problem and then try to solve it. The concept of inventing each day and changing perceptions—both for Americans and for those in foreign cultures—was also a plus.
"That's probably the basis for peace, knowing that the other guy is not some kind of devil," he says.
Now back on American soil, the couple is in graduate school at Western Illinois University in Macomb, Ill., pursuing master's degrees in education and interdisciplinary studies with a concentration in teaching English to speakers of other languages. Terry is a Peace Corps Fellow working with Macomb City Hall to revitalize the downtown area and plans to participate in a future rural development project. AIice is an AmeriCorps Vista volunteer by day and takes graduate courses at night. She began teaching English as a second language for the First Presbyterian Church in Macomb in January, hoping to make a difference.
The Daughertys are already dreaming of their next big adventure, and Terry calls the Peace Corps "the best game in town."
While their next step is uncharted, the Double Dels say that following graduation, they are ready and willing to go wherever they are needed, for as long as they are able. "We'd love to end up in a Spanish-speaking country or return to Bulgaria or nearby Macedonia," Terry says.
"But if someone wants to send us to Thailand, we'll go. We'll figure it out when we get there."
Article by Karen B. Roberts, AS90