'Ni hao' from Delaware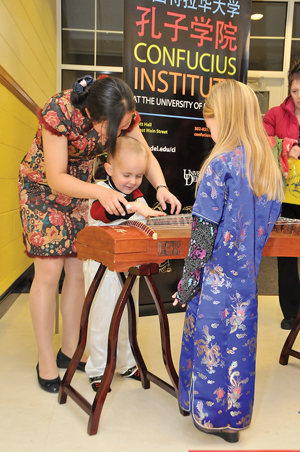 Photo by Ron Gough
ALUMNI | For some 5-year-olds in Delaware's Caesar Rodney School District, the world is getting smaller—thanks to a statewide initiative launched by Gov. Jack Markell, support from the Confucius Institute at UD and the efforts of several University alumni.
This school year, 100 kindergartners at the McIlvaine Early Childhood Center in Magnolia, Del., entered the state's only Chinese language immersion program. The children spend half their day learning literacy, math, science and social studies in Mandarin and the other half in English-speaking classes.
The program is part of the state's World Language Initiative (WLI), designed to prepare Delaware's workforce for a global economy by having students master another language before entering high school.
"The Caesar Rodney School District has embraced the concept of preparing our students to compete in a global economy by offering six languages in our high school," superintendent Kevin Fitzgerald, EH03EdD, says. "But we recognize that students in countries around the world start learning other languages as young as 5 years old. When the WLI grant became available, we jumped at the opportunity to provide our kindergarten students with the advantage of learning Chinese."
McIlvaine principal Sherry Kijowski, EH03M, 12EdD, says parents recognize the benefits of the program, which had 285 applicants for 100 slots in the inaugural class. Now, she says, "It is amazing to walk through the halls and hear 5-year-olds saying 'ni hao' [hello] and 'xie xie' [thank you]."
Kijowski previously was supervisor of instruction for a variety of district initiatives and worked to establish a Chinese language program at the high school level. When the grant for the WLI program came through, she was identified as a perfect fit to help launch the state's first immersion program in Chinese.
"My assistant principal, Brook Castillo [EH02], and I earned degrees at UD, and our strong connections helped a great deal when we were developing this program," she says, adding that Fitzgerald also was familiar with the University's global initiatives and the resources at the Confucius Institute. "Their willingness to help support our program has been invaluable."
The University-wide Confucius Institute, in which interdisciplinary academic and cultural programs promote global initiatives, helped connect state officials with qualified Chinese-speaking teachers. In December, the school district's board of education issued a proclamation thanking the institute for its work with the program.
"We strive to help advance several of UD's most important goals, including expanding our international reach and amplifying its impact," says Jianguo Chen, associate professor of foreign languages and literatures and the Confucius Institute's director. He notes that program coordinator Carrie Fang, BE11M, is leading the collaboration with McIlvaine.
"Having the Confucius Institute as a partner has been fantastic," Kijowski says. "To help engage our families, they join us for monthly Chinese culture programs that are a big hit, with 550-600 parents and children attending each event."
Those evening programs have included such activities as crafts to teach students Chinese characters, demonstrations with Chinese musical instruments, costume exhibitions and programs on science, social studies and traditional festivals.
Plans call for the kindergartners to continue their immersion program when they move on to first grade and to pursue bilingual education in Chinese through high school. Statewide, the initiative hopes to reach nearly 10,000 Delaware students by 2022 with immersion programs in Spanish as well as Mandarin.
Article by Christina Mason Johnston, AS95, 00M