China's social-media pioneer rides wave of success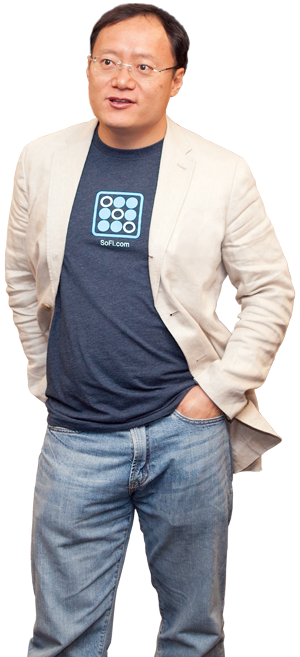 ALUMNI | Joseph Chen likes this saying, which has been variously attributed over the years to a number of successful people: "It's better to be lucky than smart."
Chen, AS92, clearly has been both.
His career has taken him from his arrival in Delaware as a 20-year-old Chinese physics student who spoke no English to his current role as founder, chairman and chief executive officer of the 10-year-old publicly listed company Renren Inc. (NYSE: RENN). The business is often called "the Facebook of China" for its extensive social networking services and penetration throughout the country.
Although today Chen is widely recognized as a highly successful Internet pioneer and Renren is China's leading real-name social networking platform, the career path he describes has more twists and turns than carefully plotted straight lines. The key, he says, is that he always was open to developing new skills, using his talents in novel ways and taking risks when warranted.
"In technology, the waves come and go," Chen says. "You have to catch them, stay with them and go where they take you."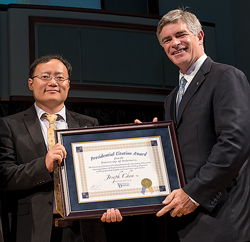 Top photo by Ambre Alexander, photo above by Kathy F. Atkinson
In 1989, Joe Chen was a college student in China. He had chosen physics as a field of study because Chinese American physicist C.N. Yang had won the Nobel Prize and was hailed throughout China as a role model for schoolchildren. When Chen arrived home one day after classes, his parents told him the family was moving to the United States, where his uncle had obtained government approval for them to immigrate and help with his mushroom business in Delaware and nearby Pennsylvania.
"I didn't speak a word of English," Chen recalls, but he spent a year learning the language and then enrolled at UD. Although he graduated with a degree in physics, he says he came to realize that wasn't where his future lay after spending a summer at Harvard conducting undergraduate research.
"I realized that to be really good at physics, you might have to be a genius," he says. "That wasn't for me. But physics is a great field, and I'm not at all sorry I studied it at Delaware. I think it helped shape the way I look at the world and how I solve business problems plus other complex issues."
Chen went on to earn a master's degree in engineering from MIT, where he interned with General Motors, and got a job with an automotive manufacturer in Alabama. Again, chance played a part in his career direction when the company acquired customers in Asia, and Chen was the obvious choice to meet with them and answer their technical questions. He liked the interactions with customers so much that he asked to move into sales; his boss agreed, and Chen found that he excelled in the new position with a sales territory that included China, Korea and Taiwan.
His newfound interest in business made him decide to earn an MBA, and he enrolled at Stanford's Graduate School of Business. It was 1997, the middle of the dot-com boom, and the university was in the heart of the Silicon Valley—the right place at the right time for entrepreneurship.
"Every student walking around at Stanford had a business plan in their pocket for an Internet startup," Chen says. "So two Chinese students and I decided to try to raise some money and go to China with our ideas."
After raising about a quarter of a million dollars in small increments from family and friends, Chen jumped on board the dot-com bandwagon even before graduating from Stanford, though he still completed his degree requirements during the venture. In Beijing, they founded the website ChinaRen ("ren" is "people" in English) as China's first real-name social network, which quickly became one of the country's most-visited websites by 1999.
When the dot-com bubble burst the following year, ChinaRen was sold to Sohu, one of China's premier and largest Internet portals. Chen stayed with Sohu as a senior vice president for a short period, while also returning briefly to the U.S. to explore opportunities there.
"But in 2002, I decided to focus on Internet ventures in China full time, and I've been in Beijing ever since," he says. "Renren is 10 years old now. We started in a couple of rooms in an apartment building, and I knew everyone who worked there. Now we have over 5,000 people and more than $170 million in revenue last year. So we're growing."
The company at first focused on college students but soon expanded its target market to include alumni, white-collar professionals and college-bound high school students. It began to grow even more rapidly, Chen says, when digital cameras became ubiquitous around 2005 and everyone wanted a way to share their photos. In 2006, Renren bought its biggest competitor—a Facebook "clone" that had, through sheer coincidence, been founded by another UD alumnus, Wang Xing, EG04M. Wang and Chen were in Delaware at different times, and their business association in China was the first time both discovered their University connection.
"When the two companies merged, it was the first nationwide network, so we just grew like wildfire after that," Chen says. "We were lucky that we got to this [social networking business] early and we gained lots of experience from ChinaRen. We had the experience, so when conditions were right, we were able to use that and be successful."
Today, Renren's platform includes not just social networking but also an online games center, a social commerce site and a video-sharing website. In April 2011, the company went public in the U.S. on the New York Stock Exchange with an $855 million initial public offering.
Chen says the company emphasizes good corporate citizenship—"Social Media for Social Good" is a slogan—through volunteerism, philanthropy and work with international and local nonprofits.
And the future of the business? That's easy to sum up in one word, Chen says: "Mobile." He notes that 200 million smart phones were sold in China last year, representing a large and brand-new market for Renren's products.
"When you ride a wave, it can take you places you never dreamed of, and we're riding on two waves now—the mobile Internet and the continued growth of China," Chen says. "The hard part is to stay on the wave, because you can't control it. Our challenge, going forward, is to stay on that wave and continue giving our customers what they want."
Article by Ann Manser, AS73