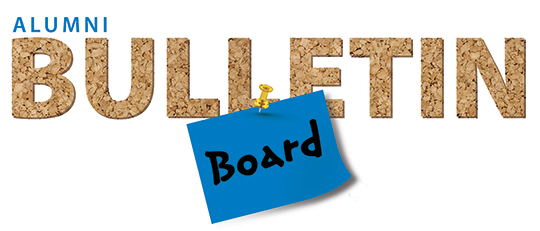 Where's YoUDee? Still on the go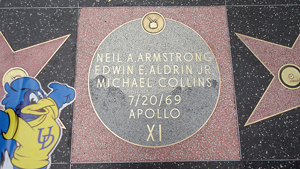 Recent reports of "Where's YoUDee?" have shown the award-winning mascot—or at least a paper version—traveling all the way to the volcanoes of Costa Rica and the Great Wall of China. But all hens have to come home to roost eventually, so YoUDee, along with UD alumni, also did some sightseeing in the U.S.
The mascot flew to Hollywood to see the Walk of Fame, where Bret Martine, AG98, photographed the plaque of the Apollo XI crew. "What a great story and pioneering adventure," Martine says. "If there was ever one man who could say 'Dare to be First,' it was Neil Armstrong."
Where will YoUDee show up next? That's up to fellow Blue Hens. To stay in shape, YoUDee hit the biking trails around the Allegheny River near Oil City, Pa., with Evelyn Tucker, EG79. That photo and others can be viewed at www.UDconnection.com/wheresyoudee, where an image of YoUDee also is available to print out and take along on a trip.
To join in the fun, pose the printout wherever you choose, from your own neighborhood to a vacation resort on the other side of the globe, and snap a few high-resolution photos with a digital camera (phone cameras won't work), including yourself if you like. Then share the photos by emailing them, along with your name and class year, to alumnet@udel.edu, and post them on the Alumni Relations Facebook page at facebook.com/UDalumni.
Seeking nominees for awards, volunteers for clubs
The Office of Alumni Relations is accepting nominations for awards and seeking volunteers for alumni clubs. More information, a list of past award recipients and applications can be found at www.UDconnection.com. To nominate a Blue Hen for an award or leadership role, visit www.UDconnection.com/nominate.
Two alumni awards, both with nomination deadlines of June 28, will be presented at Homecoming. The Presidential Citation for Outstanding Achievement honors graduates of the last 20 years who exhibit great promise in their professional careers and/or public service activities. The UDAA Outstanding Alumni Award honors those who exhibit exceptional volunteer work on behalf of the University and/or the UD Alumni Association.
To volunteer with an alumni club or group, or to help organize an affinity group or an event, email alumnet@udel.edu or call (302) 831-2341. For a full list of active alumni clubs across the nation, from New Castle County to California, visit www.UDconnection.com/clubs.
Another way to get involved is to help plan a class reunion for Alumni Weekend 2014. Planning will start soon to help the classes of 1964, 1989, 1994, 1999, 2004 and 2009 celebrate their milestone reunions next year; email ud-reunions@udel.edu.
Delegates lead the way at Commencement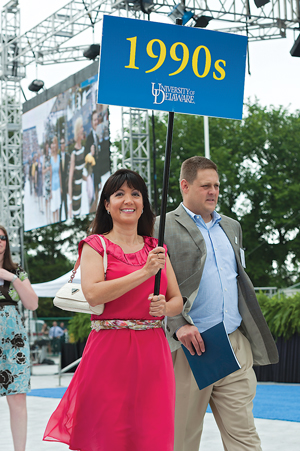 It is a tradition at the University that, as part of Commencement exercises, two alumni from each class march in the procession honoring the graduating class.
The next alumni delegates will follow the Class of 2013 into Delaware Stadium on Saturday, May 25, and will be seated on the field near the stage. Being a Commencement Delegate is a great way to celebrate the achievements of the graduating class, and often the delegates are family members of new graduates. In fact, it is common for three generations of Blue Hens to walk at Commencement.
Names of alumni delegates are printed in the program, and each delegate and a guest are invited to a reception before the ceremony.
If you are interested in serving as an alumni Commencement delegate, contact the Office of Alumni Relations at UD-delegates@udel.edu or (302) 831-2341.
Association pin lets alumni show their pride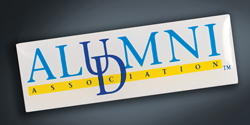 The UD Alumni Association (UDAA) works to promote and strengthen existing traditions and to create new traditions for future generations of alumni to enjoy.
One new tradition began in 2009 with the introduction of the UDAA alumni pin. All alumni automatically become members of the association upon graduation, and this commemorative pin symbolizes the bond among the University's 160,000 living alumni.
At every Commencement since spring 2009, new graduates participate in a pinning ceremony led by the association president that symbolizes their induction into the UDAA. Alumni who graduated before 2009 can still show their Blue Hens Forever spirit and be a part of this new tradition by ordering UDAA pins online at www.UDconnection.com/Merchandise/UDAA-Pins. The charge is $5 for the first pin and $2 for each additional pin (shipping included).
Clubs plan outings from ballparks to breweries to beach
Baltimore Alumni Club
May 23—Downtown Happy Hour at MEX
June 29—Orioles vs. Yankees
July 13—Aberdeen Ironbirds Baseball
Aug. 3—Crab Feast
Boston Alumni Club
Aug. 27—Red Sox vs. Orioles
Chicago Alumni Club
Aug. 31—Cubs vs. Phillies
Denver Blue Hens
June 14—Rockies vs. Phillies
Kent & Sussex Counties Alumni Club
July (date TBD)—Dewey Day
Aug. 3—Delmarva Shorebirds Baseball
Lehigh Valley Alumni Club
June 9—Iron Pigs Baseball
Los Angeles Blue Hens
June 29—Dodgers vs. Phillies
New Castle County Alumni Club
June 29—Philadelphia Union Soccer & Tailgate
Philadelphia Alumni Club
May 2—Phillies vs. Marlins
Phoenix Blue Hens
May 10—Diamondbacks vs. Phillies
Reading Alumni Club
May 4—Reading Brewery Tour
July 13—Reading Phillies Baseball
Richmond Alumni Club
May 17—Wine Tasting at James River Cellars
Aug. 15—Flying Squirrels Baseball
Seattle Blue Hens
July 13—Mariners vs. Angels
Washington, D.C., Alumni Club
May 11—Nationals vs. Cubs
See more events and register at www.UDconnection.com/clubs.