Alumni briefs
New way to work on golf swing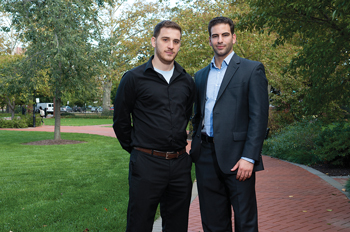 Photo by Kathy F. Atkinson
Two alumni from the Class of 2009, Louis Girifalco and Marc Reda, are only a few years out of college but already have found entrepreneurial success with a golf product called Rope It. A golf ball attached to a bungee and nylon line, Rope It was originally created by Girifalco's father, John Girifalco, when Louis was 6 years old.
"My dad was an avid golfer and would practice by hitting nets, which would frequently break," Girifalco says. "So he started tinkering around with golf balls and rope. He modified the product for over 20 years. When I graduated, we started setting up shop."
Both Girifalco and Reda earned degrees from the Alfred Lerner College of Business and Economics and took advantage of business-related programs offered on campus.
"The Entrepreneurship Club played a big role for us in college," Girifalco says. "My freshman year I entered the business plan competition run through Lerner College. I submitted a business plan for the Rope It and ended up placing second behind a group of MBA students."
The Rope It uses a real golf ball attached by a metal eye screw to a bungee rope and nylon cord. "If it were all bungee it could come back and hit you, but with the right combination of nylon the ball can fly naturally and return to the ground safely," Reda says. "The ball spins freely around the rope and can fly naturally, which can help gauge shot direction."
The product is marketed as a way to help golfers practice their swings in a limited space. It's less expensive and more convenient than using a net, the company says. Reda and Girifalco, who met at UD and now are business partners, distribute the Rope It to major retail stores and hope to expand their product line to other sports as well.
"We developed a lot of really strong relationships at UD, which we still have today, and learned a lot about what we are now doing," Reda says.
Renewal plans take shape in Ohio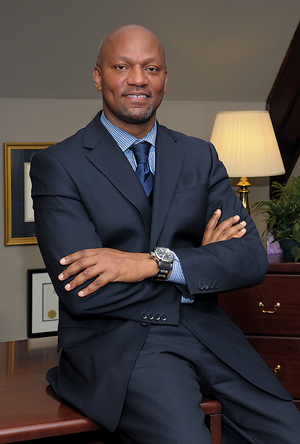 Eric Anthony Johnson, AS03PhD, is using his doctoral studies in UD's School of Public Policy and Administration to oversee the transformation of a 50-block area surrounding Ohio's University of Akron.
As executive director of the University Park Alliance (UPA), Johnson is working on an ambitious, multi-million-dollar redevelopment project that he hopes will bring jobs and new investment to the community through efforts funded by the John S. and James L. Knight Foundation.
In the two years since Johnson took the job, the UPA has developed a comprehensive business plan to attract new investment to the area. Improvements include construction projects, a community garden, the revitalization of a park, a block of renovated housing and neighborhood bike patrols.
Johnson, whose doctoral research focused on the impact of policies and economic development investment in cities such as Atlanta and Detroit, says community engagement is too often the missing link when urban redevelopment plans are made. Important challenges, including the need for improved education and public safety, need grassroots effort, he says.
"The measure of success is what others do—the community members who participate in the action, rather than just watching the progress from the sidelines, and the investors who choose to bring new construction," Johnson says. "The two pieces are coming together really well in Akron."
Advocate for a sustainable economy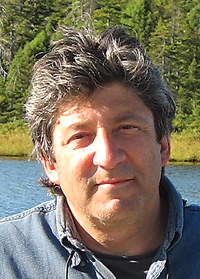 Eric Zencey, AS76, 79M, an educator, author and a fellow of the Gund Institute for Ecological Economics at the University of Vermont, had an unusually busy fall, publishing two books and joining a U.N. working group on the global economy.
Both books, which have environmental themes, and his work with the U.N. group extend the thinking and scholarship he began while pursing his master's degree in political science and international relations at UD, Zencey says. He focused on what the concept of sustainability might mean for political theory.
"For most of the past 30 years, people haven't been too interested in the subject, [but] I think there's been a cultural shift," he says. "More and more people understand that we can't have infinite economic growth on a finite planet—and that this means we have a lot of rethinking to do to adapt our political and economic institutions to physical reality."
The working group is preparing a report and a set of model policies that are expected to be completed in April 2014. The goal is to redesign the global economy to be ecologically sustainable.
Zencey's two new books are The Other Road to Serfdom and the Path to Sustainable Democracy, in which he takes on what he calls the "infinite planet" foundation of current economic theory, and Greening Vermont: The Search for a Sustainable State, which with co-author Elizabeth Courtney, tells the story of the Vermont environmental movement.
Christmas in the city: Trees with ease
When it comes to hauling home a Christmas tree and setting it up in the living room, perhaps pruning back a few branches, what's a Manhattan apartment-dweller with no car, certainly no pickup truck, and no handsaw to do?
For the past few years, he could have used the services of Tyler Kupper, BE07, who saw the dilemma of many of his fellow New Yorkers and co-founded a seasonal business he calls "everything you need for instant holiday."
Tyler's Trees will deliver, set up (tree skirt and stand included) and remove a holiday tree for customers. The business has grown each year and in 2012 had projected about $200,000 in revenue from the delivery of some 800 trees as well as sales of wreaths, garlands and holiday lights.
With a business partner and a crew of seasonal employees to help, Kupper maintains his full-time job in sports marketing. The tree business lasts only about three weeks, but its success has led the partners to consider expanding to other big cities. Meanwhile, Kupper told the New York Post in a December article about Tyler's Trees, "I still find pine needles from last year in my apartment."
Belize business gets a big boost
Peace Corps volunteer and UD alumna Meghan VanDeventer is helping to empower and employ more than 20 members of a local women's cooperative in Belize by working to reopen a restaurant in the community after it was destroyed by fires in 2003 and 2005.
The Sandy Beach Women's Cooperative owns and operates the recently restored Sandy Beach Restaurant, which reopened last fall. The cooperative, originally formed in 1986 with the help of an earlier Peace Corps volunteer, became the first women's cooperative registered in Belize.
Through a small grant, the cooperative established and ran a successful lodge and restaurant until the entire property was destroyed.
For seven years, cooperative members have been trying to restore the property. With help from VanDeventer and several local organizations, they built a new structure for the restaurant.
"The women involved directly benefit because they are now able to employ themselves once again," says VanDeventer, a 2007 history graduate who has been living and working in Belize since 2011. "The financial benefit is obvious and necessary as many of the women are responsible for housing and feeding themselves and their children. But I believe the self-confidence that comes with being a business owner is perhaps an even greater benefit."
The new structure is complete with a bar, patio, kitchen and dining area. In addition to helping with the funding and construction, VanDeventer worked with cooperative members to create a sustainable business plan and has led sessions on basic business management, bookkeeping and accounting skills.
In November, the cooperative held an official opening ceremony for the restaurant. Members look forward to restoring the lodging portion of the property in the future.
"I believe the Sandy Beach Women's Co-Op will be successful given the delicious local Garifuna cuisine, cultural appeal and idyllic location," VanDeventer says. "Not only that, the youth in the community will look to the ladies of Sandy Beach and believe that they themselves can be entrepreneurs too."
More than 1,915 Peace Corps volunteers have served in Belize since 1962.
Lawyer is a standup guy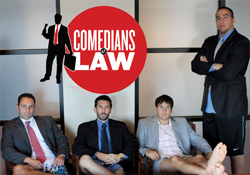 Kevin Israel, AS99, opens his standup comedy act with a topic that hits close to home for most college graduates.
"This show is about guys with dreams," says Israel, dressed in a tie and collared shirt, sleeves rolled, microphone in hand. "We have dreams, folks…of paying off $100,000 in loans. And we're doing that one show at a time."
Israel graduated from UD with a degree in political science, spent seven years working for several New Jersey state legislators and then earned his law degree from Hofstra. But after less than two years at a law firm, Israel realized he hated the job. So what's next for a disenchanted lawyer with mountains of law school debt? Become a standup comedian, join a bunch of other disillusioned but funny lawyers, and call your group Comedians at Law.
Sporting the motto "Bad at Law, Good at Comedy," Comedians at Law is a five-man act of laughable lawyers who met in early 2011 and began booking shows at colleges and law schools and bringing down the house at law firm holiday parties.
Israel got his own start doing standup comedy at UD's Greek Games where, as a brother of Kappa Delta Rho, he was asked to participate in a talent show. "I offered to do a drum solo because I played drums as a kid," he says. "But I realized I hadn't played drums for years, so I decided to do standup comedy, instead of being terrible at drums. That was my entrée into comedy."
Citing Bill Cosby and Louis CK as his favorite comedians, Israel blends Cosby's well-dressed nonchalance and CK's brutal honesty (sans the brutal profanity) with his own sense of humor that stems from his childhood experiences of being the only Jewish kid in an all-white Christian elementary school.
"People want more personal comedy and want to know more about you," he says. "It's not a joke and punch line. It's no longer observational. Audiences want comedy with a slightly darker undertone. It takes time and a level of comfort on stage to tell a story about your life."
Article by Melissa Cox, AS05
Friendships strong after 50-plus years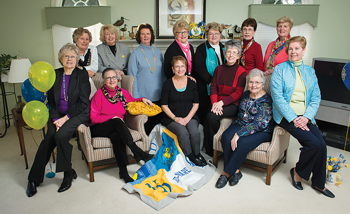 Photo by Kathy F. Atkinson
About a dozen freshman women met in September 1959 in the Kent residence hall and became friends. When they moved to the Harrington complex two years later, a few more joined their group. The close friends now have had an annual get-together for so many years that the tradition is still going strong as they prepare to celebrate their 50th class reunion in 2013. In February, they met at a home near Newark to reminisce and catch up on one another's lives. Some plan to attend Alumni Weekend on May 31, and all plan to have another party next winter.