Two big wins for
two Blue Hens
For UD alumni, 2013 started off with an unusual amount of national attention focused on their alma mater as two Blue Hens celebrated two big wins—one in politics and the other in sports.
Even supporters of the Romney-Ryan presidential ticket and fans of the San Francisco 49ers could bask in the media notice the University received. On Jan. 21, alumnus Joseph R. Biden Jr. formally took the oath of office for a second term as vice president of the United States. Less than two weeks later, former Blue Hen quarterback Joe Flacco led the Baltimore Ravens to the national football championship in a Super Bowl victory.
The press had previously dubbed UD the "epicenter of politics" for the key roles that Biden and other alumni played in the 2008 presidential campaign. Now, sportswriters have joined in, recognizing Flacco and other former Hens who went on to success in professional football; a New York Times story ran under the headline "Delaware, Cradle of Super Bowl Quarterbacks."
The VP: Joe Biden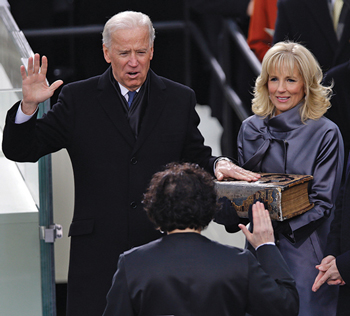 Photo: Associated Press
President Barack Obama and Vice President Biden took their oaths of office for a second term in separate, private ceremonies on Sunday, Jan. 20, and again as part of public inauguration ceremonies and festivities the next day.
Biden was sworn in by Supreme Court Justice Sonya Sotomayor, using his family Bible held by his wife, Jill Biden. Joseph Biden received his bachelor's degree, a double major in history and political science, from UD in 1965 and an honorary doctorate in 2004. Jill Biden is a 1975 graduate with an English degree, who also received her doctorate in education from UD in 2006.
During his first term as vice president, Biden visited campus several times, delivering the inaugural James R. Soles Lecture on the Constitution and Citizenship in September 2011, and attending occasional football and basketball games.
When he delivered the Soles lecture, he also announced that he would donate his papers to the University from the 36 years he served as a U.S. Senator from Delaware until his election as vice president in 2008. Those Senatorial papers arrived on campus last June and are housed in the University Library's Special Collections Department.
During a 2009 visit to support offshore wind power and a commitment to clean energy, Biden told those attending the event that he enjoys coming to UD and regularly praises the University's reputation.
"I get energized every time I come on campus," he said. "The students here at the University of Delaware, they get it."
Jill Biden has been active on campus as well. She delivered the Winter Commencement address in January 2010, at which time she was awarded an honorary doctorate. A community college English professor, she has worked to highlight the importance of community colleges, to raise awareness about the sacrifices made by military families and to bring attention to women's health issues.
Joe Biden's selection as Obama's running mate in 2008 and their two successful campaigns drew attention to the vice president's alma mater. The media made note of other alumni who also were involved in politics on the national stage, including New Jersey Gov. Chris Christie, Obama adviser David Plouffe and Republican strategist and commentator Steve Schmidt. All three have visited campus in recent years to deliver lectures and participate in panel discussions, and Christie is an active Blue Hen football fan and delivered the 2011 Winter Commencement address.
Christie, AS84, is seeking re-election this year to a second term as governor and is widely considered a potential Republican presidential candidate in 2016. Plouffe was a senior White House adviser to Obama during his first term and played a central role in the political strategies that won him victories in 2008 and 2012. Schmidt was a senior strategist with John McCain's 2008 presidential campaign and has been a fixture as a political commentator in print and on television.
The MVP: Joe Flacco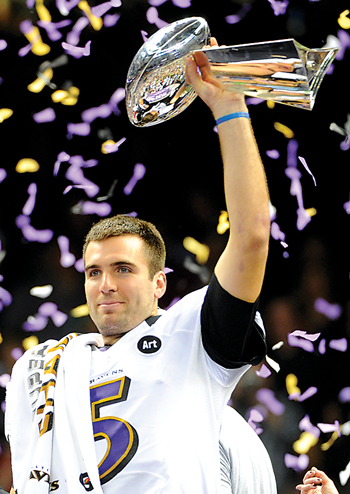 Photo: USA Today Images
Joe Flacco led the Baltimore Ravens to a hard-fought 34-31 victory over the San Francisco 49ers in Super Bowl XLVII in February.
Flacco—who was joined on the Ravens' roster by fellow Blue Hen standout Gino Gradkowski, a rookie offensive lineman—was named the game's most valuable player as he completed 22 of 33 passes for 287 yards and three touchdowns. He and Gradkowski both earned All-American honors for the Blue Hens during their playing careers in Newark.
They were the fourth and fifth former Blue Hen players to compete in one of the world's most-watched sporting events. In previous Super Bowls, Ivory Sully played special teams for the Los Angeles Rams against the Pittsburgh Steelers in 1980, former NFL Most Valuable Player Rich Gannon started at quarterback for the Oakland Raiders against the Tampa Bay Buccaneers in 2003, and tight end Ben Patrick caught a touchdown pass for the Arizona Cardinals in 2009 against the Steelers.
With Flacco's appearance in the 2013 game, Delaware became the first NCAA Division I Football Championship Subdivision school to have two different players start at quarterback in the Super Bowl and is one of only 10 schools nationally to accomplish that feat, joining Alabama, Purdue, Notre Dame, California, UCLA, Stanford, Brigham Young, Maryland and Washington State.
Since Sully, Gannon and Patrick all played on teams that lost, Flacco and Gradkowski became the first former Delaware players to earn a Super Bowl ring.
Flacco, a fifth-year NFL pro, led Baltimore to the postseason for the fifth straight season, becoming the first player in NFL history to accomplish that feat. He capped an outstanding playoff run as he tied an NFL record held by Joe Montana and Kurt Warner with 11 touchdowns passes in the postseason. Flacco did not throw an interception in the postseason.
In the days leading up to the Super Bowl, a number of publications, including The New York Times in its "Cradle of Super Bowl Quarterbacks" piece, ran stories about the number of outstanding quarterbacks who have played for UD.
Even aside from Super Bowl starters, UD "has produced an almost staggering number of NFL quarterbacks for a university that does not play in the Football Bowl Subdivision," the Times article said.
"Including Flacco and Gannon, Delaware has had five quarterbacks drafted by NFL teams, and a sixth, Pat Devlin, signed as an undrafted free agent."
Flacco spoke in the article about Delaware's success in developing quarterbacks.
"Historically, it's been a pretty good program for a I-AA school," he told the Times. "It's also a pretty good recruiting tool, for a I-AA school to have 22,000 fans show up to every one of your games."