Students strengthen ties with alumni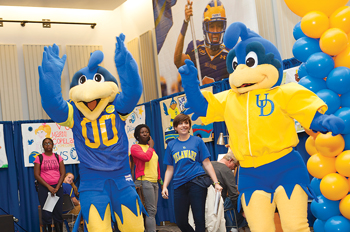 Photo by Ambre Alexander
ALUMNI | The Student Homecoming Committee and UD Student Alumni Ambassadors are implementing a variety of programs on campus to help students stay connected with the University and fellow Blue Hens.
Advised by the Office of Alumni Relations, the two organizations consist of enthusiastic students who work to create memorable campus programs, foster students' pride in their alma mater, connect with alumni and encourage students to stay connected with and support the University after they graduate.
UD Student Alumni Ambassadors
UD Student Alumni Ambassadors (UDSAA) is an elite group selected by the Office of Alumni Relations to foster connections between alumni and students by interacting with UD graduates and by encouraging students to consider their roles as future alumni.
Junior Mike Smyth, a member of the group, says many students want to stay in touch with the University after they graduate because UD had become a second home for them.
"As an alumnus, you want to stay in touch with that new hometown," he says. "It's similar to where you grew up. You want to go back and talk to people and see how things have changed."
Junior Zaynah Henry, vice president of administration, furthered the UDSAA mission and forged connections with alumni from the 1950s and 1960s when she gave tours of campus to Gold Guard alumni (graduates from 50 or more years ago) during the past two Alumni Weekends.
"It was great to see their Blue Hen pride, and it was interesting to hear their stories about what the University was like back when they went here," Henry says.
Recent projects include the building and unveiling of the UD Bucket List, a thorough checklist of things to do and see while a student, and a UDSAA cookbook, featuring recipes by the Blue Hen community. There is even a scholarship specifically for ambassadors—the $1,000 UD Alumni Association T. Muncy Keith Spirit Award, presented each fall.
Student Homecoming Committee
The Student Homecoming Committee (SHC), first formed in 2012, is responsible for the coordination and execution of one of the largest University events.
"The University recognizes the importance of student involvement in the planning and implementation of events, and Homecoming is no exception," says Christine Scheirer, AS09, associate director of reunion and student programs. "The committee really pushed Homecoming to new heights."
In its inaugural year, the SHC implemented new programs and activities during Homecoming Week that were successful even beyond the committee's expectations.
Sophomore Nikita Mutter was on the subcommittee that planned the first-ever Battle of the Blue Hens, a competition between on-campus Registered Student Organizations that lasted the entire Homecoming Week. The competition awarded points and rewards to the organizations that had the most participation by their members in Homecoming activities.
"We could not believe how popular the Battle was," Mutter says. "More than 500 people came out to events throughout Homecoming Week. It was so popular we ran out of points cards and had to rush to get more printed."
The Homecoming Committee also revived the tradition of the Homecoming Court after a nearly 15-year hiatus. Seniors Sam Katz and Jen Lowe were crowned Homecoming King and Queen by 1965 Homecoming Queen Valerie Biden Owens, AS67.
Article by Melissa Cox, AS05
Web extra: Read an interview in which Katz and Lowe share their experiences as students and as Homecoming royalty.