Top senior athletes honored at spring banquet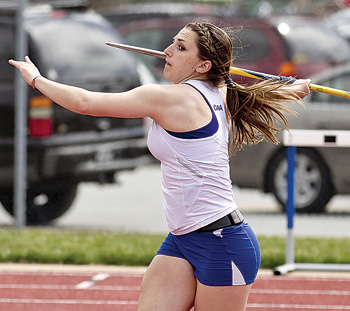 Photo by Mark Campbell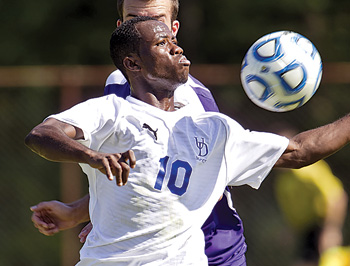 Photo by Mark Campbell
SPORTS | Men's soccer All-American Evans Frimpong and two-time conference javelin thrower champion Jillian Seamon were honored as the UD Alumni Association Outstanding Male and Female Athletes of the Year.
A four-year standout, Seamon earned the title as one of the top javelin throwers in Colonial Athletic Association history, winning the CAA javelin title in 2010 and 2011.
A four-year ECAC qualifier in the javelin, she captured 12 individual meet titles during her career and broke a school record that had stood for 30 years. She also competed in the shot put, weight throw, long jump and hurdles during her career with the Blue Hens.
Seamon has been an Academic All-American nominee and a candidate for the prestigious NCAA Woman of the Year Award.
The Blue Hen men's soccer team enjoyed its finest season in school history during the 2011 campaign, and no one played a bigger part in that success than Frimpong, a senior forward who was among the most feared offensive threats in the CAA.
He finished the year among the league leaders with 12 goals and five assists and was named the team's Most Valuable Player.
Frimpong earned a host of awards and became the first UD player ever drafted in Major League Soccer. He now plays professionally in the North American Soccer League.
In addition to the Outstanding Senior awards, the Mary Ann Hitchens Award was presented to rower Lauren Kanaskie and the Edgar Johnson Award to lacrosse standout Carter Bloor. Numerous other athletes also were honored; for a complete list, visit www.bluehens.com.