Football season promises excitement on field of TV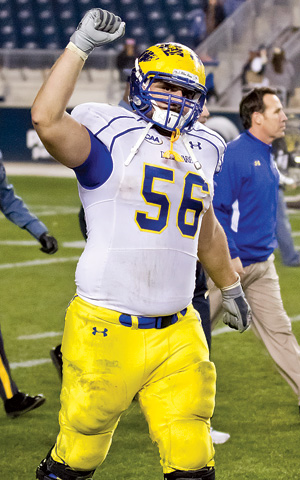 Photo by Mark Campbell
SPORTS | Delaware football kicks off its 2012 season Aug. 30, and fans this year who can't attend every game in person will have a few other options.
UD will be highlighted on national television three times this season when the Blue Hens appear on the NBC Sports Network for home games against Delaware State and Towson and in a road game at Old Dominion.
The Colonial Athletic Association has announced that six CAA football games—three involving UD—will be televised nationally during the 2012 season as part of the conference's new five-year broadcast agreement.
The TV schedule begins Saturday, Sept. 8, when Delaware hosts Delaware State in the annual "Route 1 Rivalry" at 3:30 p.m. at Delaware Stadium. The Hens will also play in nationally televised games on Oct. 27 at Old Dominion and Nov. 3 at home vs. defending CAA champion Towson. Both games begin at noon.
The remainder of the CAA/NBC schedule will feature Towson hosting William & Mary on Sept. 15 at noon, James Madison hosting Towson on Oct. 6 at 1 p.m., and Old Dominion taking on JMU on Nov. 17 at 7 p.m.
Delaware and Towson are the only schools that will appear three times.
CAA football will also have 13 games televised regionally this fall through its partnership with Comcast SportsNet.
Delaware, led by 11th-year head coach K.C. Keeler, will return 13 starters and six all-conference players from last year's team that went 7-4 and narrowly missed out on a second straight trip to the NCAA tournament.
The Hens will open the season Aug. 30, taking on West Chester at 7:30 p.m. at Delaware Stadium.
Former players move on to pros
The Baltimore Ravens selected former Blue Hen offensive lineman Gino Gradkowski, who earned a spot on virtually every All-American team last season, in the fourth round of the NFL draft in April.
He will join Ravens starting quarterback and former Blue Hen All-American Joe Flacco, who has led the team to five NFL playoff victories during his four seasons.
A two-time first team All-CAA selection and a 2011 team co-captain, Gradkowski was the Hens' top offensive lineman in 2010 when Delaware went 12-3 and advanced to the national championship game.
Also earning a shot in the NFL this season is Shea Allard, a three-year starting offensive tackle for the Blue Hens, who was signed to a free agent contract by the Green Bay Packers.
Allard, who won All-American honors this past season in leading Delaware to a 7-4 record, was one of five free agents signed by the 2011 Super Bowl champion Packers following a rookie orientation camp.
In late June, the New York Jets signed Matt Hardison, a two-year standout defensive tackle for UD.
Allard, Gradkowski and Hardison were expected to be among nine former Blue Hen players in NFL camps this summer, joining quarterbacks Flacco (Baltimore) and Pat Devlin (Miami), defensive backs Mike Adams (Denver) and Anthony Walters (Chicago), defensive end Ronald Talley (Arizona), and tight end Josh Baker (Jets).