Award honors painter Peter Williams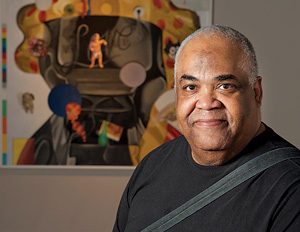 Photo by Kathy F. Atkinson
ON THE GREEN | Peter Williams, a professor of fine arts and visual communication whose own work has been widely exhibited, recently was recognized with a Wynn Newhouse Award, an honor granted to fine artists of professional standing who have a disability.
During the early part of his college career at the University of New Mexico at Albuquerque, Williams was involved in a severe automobile accident that left him without one of his legs and spent seven months recovering in the hospital.
He describes his artwork as biographical, usually containing human figures that represent himself, and says the accident altered the way he portrayed these figures.
"Instead of drawing the figure in complete form, without realizing it I started disassembling it," Williams says.
He says his paintings also make cultural statements, exploring race, class and gender, and that he executes his work without a subject in mind, and instead works in a stream of consciousness style, painting what he sees and feels.
"I am trying to make paintings about what it is like to be me at this point in time," Williams says.