Half a century of leadership in public policy and scholarship
Photo by Ambre Alexander
ON THE GREEN | The School of Public Policy and Administration (SPPA), a national pioneer in the study of urban affairs, celebrated its 50-year anniversary during the 2011-12 academic year.
Established in 1961 with funding from the Ford Foundation, SPPA was one of the first interdisciplinary university programs in the nation to focus on the challenges of urban America. It has since undergone changes in its name and college and has expanded its breadth of academic programs to include new graduate and undergraduate degrees.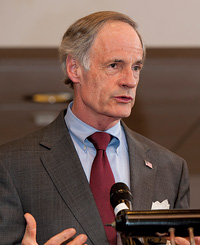 Photo by Kathy F. Atkinson
"A half-century later, we have emerged as a globally recognized, comprehensive school of public affairs, with nationally ranked academic programs and research and public service programs that impact the public and nonprofit sectors at all levels," says Maria Aristigueta, director of the school.
To celebrate its 50-year milestone, SPPA convened a series of distinguished lectures that culminated in a day of celebration March 19. That event included a conference for students and young alumni on careers in public and community service and a reception in honor of the school's local, national and global partners.
The conference brought together notable leaders and alumni from government, public policy and the nonprofit and private sectors. All delivered a similar message—that careers in public and community service are challenging, rewarding and available to UD graduates who prepare for them.
Open to the full campus community, the conference aimed to highlight the diverse array of public service careers while arming students with strategies to gain a competitive edge in their employment search.
In his keynote address, Tony Allen, AS93, 01PhD, a member of the University's Board of Trustees who earned his doctorate in urban affairs and public policy, described his career trajectory—from "apathetic political science major with a dean's list mentality for mischief," to founding head of Public Allies Delaware and the Metropolitan Urban League of Wilmington, to speechwriter for now-Vice President Joseph R. Biden Jr., to his current position as communications executive for Bank of America.
"Everyone in this room is connected to the greatest academic training ground for public service in our country," he said to a packed room of students, faculty and alumni. "Don't miss your opportunity to do something with it."
At the reception following the conference, attended by more than 300 alumni and friends, members of Delaware's congressional delegation and other state leaders applauded the school's legacy and commended its vision for the future.
"There are a number of young men and women, undergraduate and graduate, who have come to work for me right out of the public policy program, and they've gone on to do even better things with their life," U.S. Sen. Tom Carper said. "How proud I am of them and how grateful I am to the University of Delaware and to this program for providing them not just for me, or our state, but as it turns out, our nation."
Leading up to the celebration was the school's 11th annual speaker series, which brings an esteemed cadre of legislators and experts to campus to address pressing issues and trends in public policy.
This year's series focused on "Leadership, Service and Policy" and kicked off with a lecture by Delaware Congressman John Carney, a 1984 alumnus with a master's degree in public administration.