Students distinguish themselves with service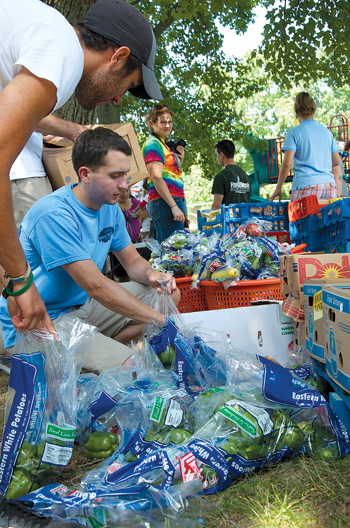 Photo by Danielle Quigley
ON THE GREEN | Nearly 12,000 UD students put their education into action helping area communities last year, from teaching opera to middle school students, to developing computer databases for the Food Bank of Delaware.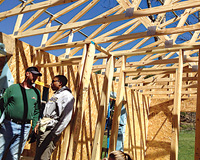 Such worthy works have not gone unnoticed. The University has been named to the President's Higher Education Community Service Honor Roll with Distinction—its fifth consecutive year to be named to the honor roll and its third year to receive the more elite honor "with distinction."
The Corporation for National and Community Service named 513 universities, colleges and schools to the honor roll, and 110 received the recognition with distinction.
UD was the only higher education institution in Delaware to receive the federal recognition for improving the life of off-campus communities, particularly low-income residents.
In addition to thriving collaborations with the Food Bank of Delaware and with the Early Learning Centers in Newark and Wilmington, the University was recognized for novel community service partnerships in business and the arts, according to the Office of Service Learning's Sue Serra, who coordinates the annual application.
Last spring, JPMorgan Chase and Co.'s Technology for Social Good program involved a student team in management information systems from UD's Alfred Lerner College of Business and Economics in the design of a teen-focused website for the National Eating Disorders Association.
JPMorgan Chase had such a positive experience with the team that the program wanted to leverage the students' skills on other projects, including working on technology solutions associated with the digitization of the Martin Luther King Jr.archives, according to Anand Setupathy, who works with Technology for Social Good.
"We are proud to be working with the UD students on projects that impact the global community," said Guy Chiarello, chief information officer for Chase. "Connecting UD students with a passion for technology with nonprofits with a need creates a win for all involved."
Students and faculty also developed a wide range of community service projects in the arts, including ProjectMUSIC, which involved more than 350 elementary school students in music presentations on campus, with UD students teaching 250 fourth- and fifth-graders a children's opera that was performed for more than 800 people.
In another project, ArtsBridge Scholars created arts lessons for schools, integrating dance with Colonial history, mapping skills and math, pollution and transportation concepts. And art conservation students collaborated with a local African American community in Newark, Del., to create a smartphone-based community walking tour in which residents narrate the past.
Alternative Spring Break
In yet another example of community service, University of Delaware Alternative Breaks (UDaB) ran five trips during this year's spring break, with groups traveling to New Orleans, North Carolina, Tennessee, West Virginia and Washington, D.C.
UDaB piloted its first program last year, when about 95 students completed more than 3,000 hours of community service. This year, some 130 students gave more than 3,900 hours of their time through UDaB, in addition to other spring break programs such as a Presbyterian Campus Ministry trip to Honduras, an Honors Program trip to the Dominican Republic, a Hillel trip to New Orleans and a Wesley Foundation Campus Ministry trip to South Carolina.
Participants in the various trips helped repair flood-damaged homes and led educational activities in a preschool for homeless children, among numerous other projects.