Awards honor exceptional teachers, advisers, mentors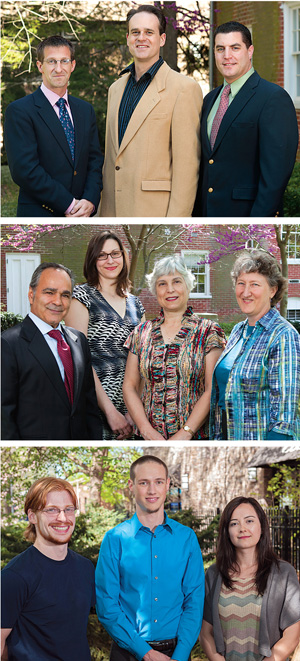 Photos, top to bottom, by Kathy F. Atkinson, Ambre Alexander, Evan Krape
ON THE GREEN | Seven faculty members have been recognized for outstanding work in teaching and advising, and three graduate teaching assistants have received awards for excellence in teaching.
This year's Excellence in Teaching Awards were presented to James Atlas, assistant professor of computer and information sciences; Steven Mortenson, associate professor of communication; and Matthew Weinert, associate professor of political science and international relations and director of graduate studies in the department. The awards are based primarily on nominations from current and former students.
Atlas says he uses a hybrid approach to teaching, mixing traditional lectures with more active learning techniques such as problem-based learning. "Because students respond differently to various teaching styles, I use several of these techniques in the same course through the semester to broaden participation in class," he says.
Mortenson's goal is to help students become empowered through knowledge. "The more people understand how communication produces the social reality we live in, the more empowered people become in defining their own reality," he says.
For Weinert, teaching is a way of taking responsibility for the future by preparing students to improve the world. He says he asks himself, "How best do I assume responsibility for conveying information, teaching skills, inculcating an ethic of responsibility and instigating a love of learning?"
Honored with the Excellence in Advising and Mentoring Award, also based on student nominations, were Vicki Cassman, assistant professor of art conservation and director of undergraduate studies in the department; Lindsay Hoffman, assistant professor of communication and of political science and international relations; América Martínez, assistant professor of foreign languages and literatures; and Ali Poorani, associate professor of hotel, restaurant and institutional management.
Cassman, who calls personal interactions with students "vital," says she often continues to advise art conservators for years after graduation. "I have an open door policy, and present and past students regularly pop in for advising or a quick question," she says.
Hoffman's advising focuses on mentoring students through the process of conducting research. "It's easy for scholars to become entrenched in a specific discipline's discourse, and undergraduates can often open our eyes to new ways of examining both old and new issues," she says. "A commitment to open dialogue produces not only a one-time learning experience, but potentially groundbreaking research."
For Martínez, the goal of advising students is to ensure that they all get the answer they need, even if it isn't necessarily the one they hoped to get. She says she wants them to know "that they have been listened to and that they have been treated with respect, that their concerns have been taken seriously and that they are important as human beings and students at UD."
Poorani notes that students have needs beyond academic advisement, "such as professional and leadership development, industry networking, connection to social groups and emotional support." No one can address all those needs, he says, but a faculty mentor can "encourage, empower and engage students to fulfill those needs."
This year's recipients of the graduate student Excellence in Teaching Awards were Luke Ayers, who is pursuing a doctorate in behavioral neuroscience; Brett Remkus, a doctoral student in the Department of Political Science and International Relations; and Inci Ruzybayev, a doctoral candidate in the Department of Physics and Astronomy.
At a ceremony held the day before Commencement, the award for outstanding advising and mentoring of doctoral students was announced. The recipient was the late Lawrence H. Cohen, professor of clinical psychology, who died this past April.
Dr. Cohen advised 26 doctoral students to degree completion during his 32 years at UD and was admired for setting high standards coupled with "exceptional caring." His "incredible mentorship" was described as "his gift and his calling" by a former student.