Website sows seeds for future entrepreneurs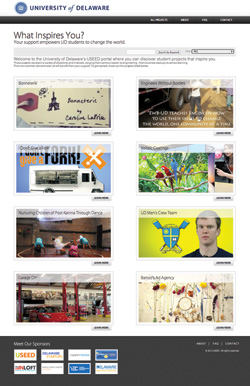 ON THE GREEN | The Entrepreneurial Studies Program has launched UDSeed, at http://useed.udel.edu, an innovative web platform that enables alumni, faculty, staff and community members to participate in students' work.
Although the E-Studies Program is housed in the Alfred Lerner College of Business and Economics, this pilot project spans the campus with students from four colleges, eight academic units, one registered student organization and one club sport involved.
Student biographical and project information is viewable on the new portal, which also features informational videos.
Visitors to the site have the opportunity to engage with a project through "liking" or sharing the project on Facebook, sending invitations to individual students to connect with them on LinkedIn, giving advice through LinkedIn group discussions, posting a comment or making a gift to support a student venture.
"The benefits for students extend well beyond financial support for their projects," says Dan Freeman, associate professor of business administration and faculty director of the E-Studies Program. "Students can make professional connections with alumni and other community members that enhance their career opportunities, or they could make connections that help them to change the world in meaningful ways."
Projects include the Urban Fresh team, which is attempting to figure out how to provide access to healthy options in "food desert" census tracts, or populations with limited or no access to healthy foods. That's just one of 25 initial projects covering a range of subjects.
"If you are interested in fashion, service learning, dance, urban design, electrical engineering, crew, finance, marketing, entrepreneurship or making the world a better place, then at least one of the UDSeed projects is likely to be of interest to you," Freeman says.