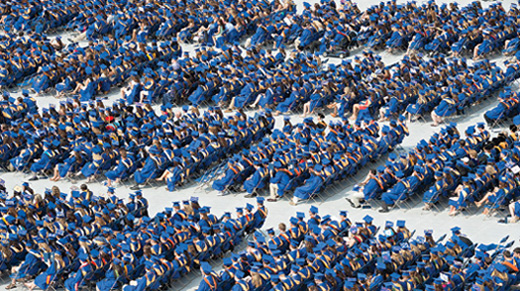 Photos by Evan Krape
Newest graduates celebrate with family
and friends
ON THE GREEN | As the weather changed from a cloudy canopy to brilliant sunshine, some 22,000 families, friends and graduates gathered May 26 at Delaware Stadium to salute the Class of 2012 at the University's 163rd Commencement.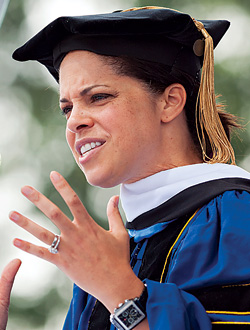 Keynote speaker Soledad O'Brien, special correspondent and anchor for the CNN morning show Starting Point, urged the newest Blue Hens to seek out and listen to the stories of others, as a means of understanding and appreciating how sharing individual differences makes America great as a nation.
She drew on her family history as she told the audience that her immigrant parents spent their lives ignoring misguided advice, especially as a mixed-race couple at a time when interracial dating was not only frowned upon but illegal in Maryland, where they lived.
"When they went into a restaurant, my father, who was Australian, was told he could come in, but not my mother, who was a black woman from Cuba, and most certainly, they could not come in together," she said.
Her parents married anyway, in Washington D.C., and returned to Maryland, where they lived "illegally" as a couple, ignoring the advice of friends who warned them not to have children "because interracial kids would never find a place in this world," she said.
"I'm number five of six children. My parents were terrible listeners every step of the way," O'Brien said. "They knew they were on the right side of history."
It was out of this history that, after graduating from Harvard University, she decided to pursue a career as a journalist and try to understand other people's lives and perspectives.
She urged the graduates also to find out about others and to celebrate their differences.
"We better understand that we are just part of a bigger whole and not divided by political labels or gender or race, but are stronger as a nation because of what binds us," O'Brien said. "Those differences are our heritage. Identities do matter and we can all be proud that we are here, together."
As Commencement began, UD President Patrick Harker welcomed the audience and congratulated the Class of 2012. He urged graduates to leave a personal legacy of hard work, kindness, honesty and friendship.
"Your path didn't start at UD, and it won't end here," he said. "Your life is a continuum, with plenty of chances to be the person you want to be and—fortunately for all of us—plenty of second chances, too."
Gil Sparks, chairman of the University Board of Trustees, presented four honorary degrees at the ceremony, noting that the award is UD's highest honor. Recipients and their degrees were: Simmie Knox, AS67, a renowned artist who painted President Bill Clinton's official portrait, doctor of fine arts; O'Brien, doctor of humane letters; Donald J. Puglisi, philanthropist and MBNA American Professor Emeritus of Business at UD, doctor of humanities; and Angelica Zander Rudenstine, internationally known advocate for museums and art conservation, doctor of humanities.
A sampling of other Commencement highlights included:
Degrees, from the Associate in Arts to the doctorate, were conferred on more than 4,250 graduates, who came from 38 states (most commonly Delaware, with 1,376 graduates) and 18 other countries (topped by China, with 24).
The new graduates included 41 receiving the honors degree with distinction and 187 receiving the honors degree. Their achievements were celebrated the previous day at the annual Honors Program breakfast.
At a doctoral hooding ceremony, held this year under a tent on The Green the day before Commencement, degrees were awarded to 126 new graduates present for the celebration. They represented only a portion of the more than 300 doctoral awardees this spring, many of whom had already gone on to new careers around the globe.
Article by Jerry Rhodes, AS04