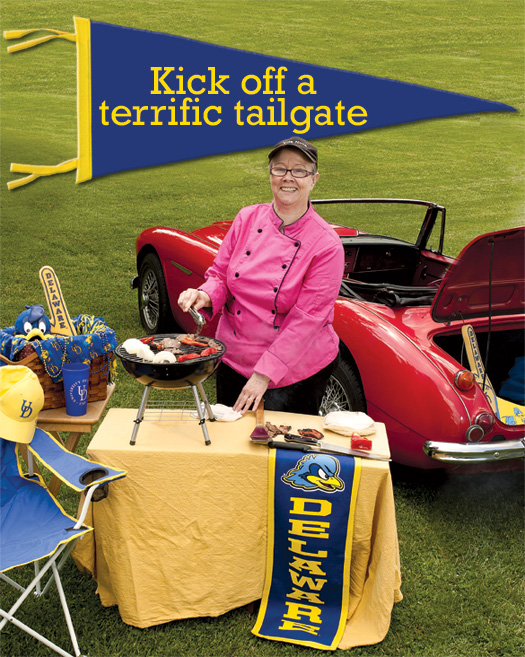 Football, food and fun
About the chef
Debbie Ellingsworth, AS77, graduated from UD with a degree in psychology and later followed a new path to culinary school and a career as a chef. She now works at her alma mater, as an instructor in the Department of Hotel, Restaurant and Institutional Management, where she teaches the culinary laboratories at the department's Vita Nova restaurant on campus.
Ellingsworth teaches elsewhere as well, leading an annual summer cooking camp for children and teens and offering demonstrations to groups including alumni clubs.
Here are a few of Debbie Ellingsworth's suggestions for a successful tailgate:
1. Always be aware of food safety. Keep cold items cold and hot items hot while in transit to the game and while setting up your tailgate.
2. Pick some "outside-the-box" items. Instead of regular burgers or wings, try vegetarian chili or grilled flatbread with an assortment of homemade spreads (See note, below).
3. Football tailgating spans at least two seasons, so keep the weather in mind when planning a menu. When temperatures drop, gourmet hot chocolate might be more popular than cold sodas.
4. Remember that food-borne illnesses can occur when, for example, a knife or plate is used for raw meat and then for items such as cheese or tomato slices. Bring enough utensils, plates and foil to avoid reusing.
5. Let the cook enjoy the party, too. Do as much preparation at home as possible so that many dishes are ready to eat—or at least assemble—on arrival.
6. Keep cleanup simple by using some disposable items and bringing along a container of hot water with a bit of bleach in it for items such as platters and knives.
Here are a few of Debbie Ellingsworth's recipes for a successful tailgate:
(click on the title for a printable 5" x 7" pdf)