Where's YoUDee?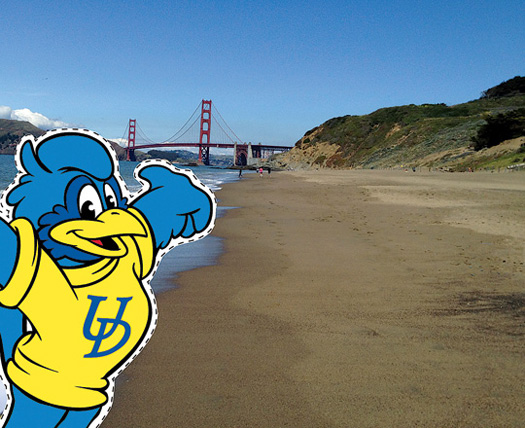 YoUDee sure has a lot of frequent flier miles.
The proud mascot of the University has been everywhere—from the frigid tundra of Antarctica, where he traveled on a study-abroad program with Prof. Ralph Begleiter, to the Sydney Aquarium in Australia, and from the Golden Gate Bridge in San Francisco to the racetrack in Newton, Mass.
Where will this Fightin' Blue Hen show up next?
That's up to you! With more than 155,000 living alumni, the University of Delaware has graduates living all over the world. Show off your Blue Hen spirit in your neck of the woods by cutting out YoUDee from the opposite page and snapping a photo wherever you may be.
Feel free to pose YoUDee at a famous landmark you visit while traveling or right in your own backyard.
Here's what to do
1. PLACE
Pick a spot in your corner of the globe. It can be anywhere, with anyone, of anything. It could be at a historic site or a natural wonder, with a celebrity or with your family and friends.
2. POSE
Download the pdf of YoUDee here, cut it out, and pose him proudly in your location of choice.
3. PICTURE
Snap a few high-resolution photos of YoUDee (and yourself if you like). Be creative and have fun with it.
4. POST
Share the fun with fellow alumni. Email your photos to alumnet@udel.edu, along with your name and class year, and post your pictures on the UD Alumni Relations Facebook page at www.facebook.com/UDAlumni.