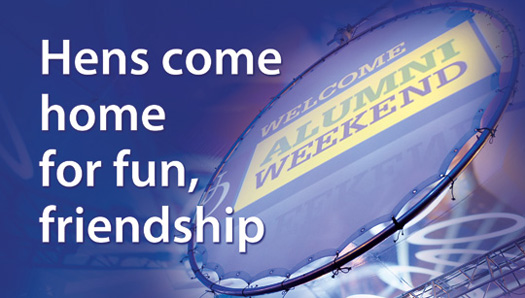 ALUMNI | Although it began amid ominous weather warnings, Alumni Weekend 2012 followed the tradition established by the annual event that began three years ago. As always, it proved to be a great time for more than 3,000 Blue Hens of all ages to catch up with former classmates and sample the wide variety of activities on the Newark campus.
While the Dela-bration Mug Night was postponed from Friday, June 1, to Saturday due to the threat of severe thunderstorms and a tornado warning on opening night, the weekend was full of fun events that included a 5K race, the Blue Hen Picnic, President Patrick Harker's "State of the University" address and the Alumni Wall of Fame ceremony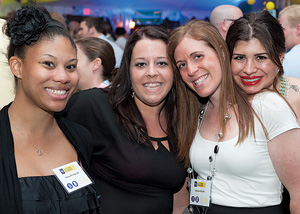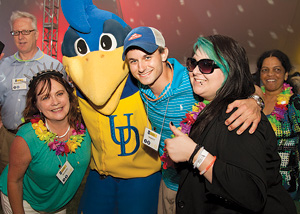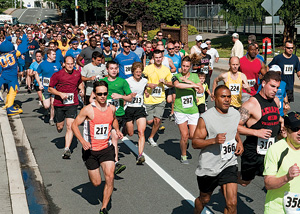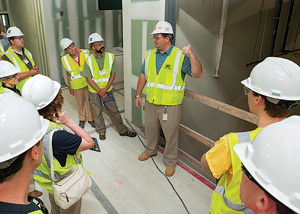 Photos by (from top) Evan Krape, Ambre Alexander, Doug Baker, Evan Krape. Main photo by Evan Krape
"Things went beautifully, in spite of the weather," Cindy Campanella, EH84, director of alumni relations, says. "We had more than 2,500 attendees for Mug Night, including 300-plus walk-ins. Other outdoor events planned for Friday were transferred inside, and everyone had a good time."
Friday evening activities included alumni receptions held by all seven colleges. The College of Arts and Sciences' gathering was co-hosted by the Institute of Global Studies and drew numerous former participants in study abroad programs.
The fourth annual Blue Hen 5K, held Saturday morning, drew some 339 entrants, and a series of informative presentations throughout the day focused on subjects ranging from beekeeping to the coming presidential election to developments in physical therapy.
A reception and luncheon on Saturday recognized members of UD's Gold Guard—alumni who graduated 50 or more years ago.
In addition to the 50-year Class of 1962, reunions also were celebrated by classes marking their fifth, 10th, 15th, 20th and 25th milestones. Gifts from those classes totaled $2,036,140, helping UD to continue a strong tradition of academic excellence.
Especially popular throughout the weekend were tours of the Science, Technology and Advanced Research (STAR) Campus at the former Chrysler assembly plant property now owned by UD, as well as visits to the UDairy Creamery and a first-ever private tour of Longwood Gardens.
During his annual "State of the University" address on Saturday afternoon, Harker briefed an audience of about 300 visiting alumni and friends on issues ranging from faculty hiring, major campus construction projects, diversity goals and the nearly 4,000 future Blue Hens slated to arrive this fall to begin their UD careers.
The Class of 2016 is composed of 3,855 students from 34 states, winnowed down from a record 26,707 applications, he said, noting that the class includes 287 Hispanic students, up 12 percent over 2011, and 242 African American students, a 54 percent rise over the previous year.
Harker said that diversity efforts also continue in the hiring of new faculty, including the 42 faculty members and five department chairs hired this year.
"Thirty-four of those recruitments—nearly three-quarters —are tenured or tenure-track positions," he said. "Of these, 14 are women (41 percent), and nine are non-white (26 percent). That's an encouraging improvement on our overall minority faculty share of 19 percent."
Diversity goals also are emphasized in the growing number of interdisciplinary programs at UD, including biomedical engineering and health care theatre, a collaboration between the College of Health Sciences and the Department of Theatre within the College of Arts and Sciences, Harker said.
To support such collaborative programs, he said, the University has undertaken a major program of capital projects, including the Interdisciplinary Science and Engineering Laboratory under construction at Academy Street and Lovett Avenue.
Complementing these new research and classroom facilities are a 45,000-square-foot addition to the Carpenter Sports Building and a pair of new East Campus residence halls.