Eight exceptional alumni join Wall of Fame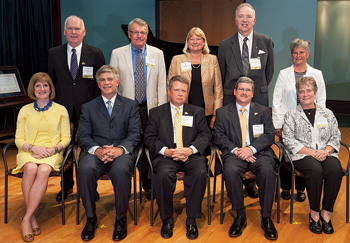 Photo by Evan Krape
ALUMNI | Eight alumni were honored for their accomplishments in an Alumni Wall of Fame induction ceremony held during Alumni Weekend festivities in June.
The ceremony honored William C. Carpenter Jr., BE73; John R. Collins, BE80; Margaret Loew Craft, AS77M; Scott K. Goodell, AS76; David R. Helwig, EG73; Evelyn Maurmeyer, EO74M, 78PhD; Gordon A. Pfeiffer, BE56; and Janet A. Smith, EH95EdD.
"When I consider our eight Wall of Fame honorees, I see the University of our aspirations," UD President Patrick Harker said at the ceremony. "I see the extraordinary talent and achievement—the dedication to excellence—that will attract more of the same."
The Alumni Wall of Fame was established by the University and the UD Alumni Association in 1984. Since then, 239 alumni have been inducted.
Carpenter was U.S. attorney for Delaware from 1985-93, when he was appointed a judge in the Superior Court of Delaware, where he continues to serve. He recently became the first Delaware judge to chair the National Conference of State Trial Judges. He also is an adjunct professor at Widener University School of Law.
Collins spent more than 22 years with Constellation Energy Group and Baltimore Gas and Electric, where he retired as senior vice president of integration. Since August 2011, he has served as the chief financial officer of Enduring Hydro, a company that provides strategic advice on and investments in hydroelectric and other clean energy generation.
Craft, who received her master's degree from the Winterthur/University of Delaware Program in Art Conservation, spent 18 years in private practice and served as an associate curator at Winterthur Museum and adjunct professor in the joint program. In 2000, she became senior objects conservator at the Walters Art Museum in Baltimore.
Goodell, an original benefactor of the James R. Soles Citizens Endowment, served as a law clerk for the presiding judge of the Appellate Division of the New Jersey Superior Court and then joined a New Jersey law firm. In 2010, he accepted the position of president and chief executive officer of Energy Insurance Mutual, an energy industry mutual insurer.
Helwig, a mechanical engineer, has nearly 40 years of leadership experience in energy related companies, including engineering, construction, operations and corporate roles. He is president of Helwig Consulting Services, executive chairman of GTL Energy, chairman of Infrastructure and Energy Alternatives and a member of the College of Engineering's advisory board.
Maurmeyer is the first woman to receive master's and doctoral degrees in geology from UD. After serving on the faculty at Franklin and Marshall College, she formed an environmental consulting firm, Coastal Estuarine Research, in Lewes, Del., specializing in coastal processes investigations, beach erosion analysis, wetland projects and environmental permitting.
Pfeiffer had a 40-year career in banking, from which he retired as senior vice president of Mellon Bank. Throughout the book, library and collecting world, Pfeiffer is known as a collector of book cover designers and the book arts, as well as Delaware ephemera. In 1977, he was a founder of the Delaware Bibliophiles.
Smith joined the UD faulty in 1979 and served as a tenured faculty member, academic administrator and coach. As head coach of UD's women's lacrosse team from 1980-89, she achieved unprecedented and unduplicated national success, including three consecutive national championships. She has been inducted into numerous halls of fame at local, regional and national levels.