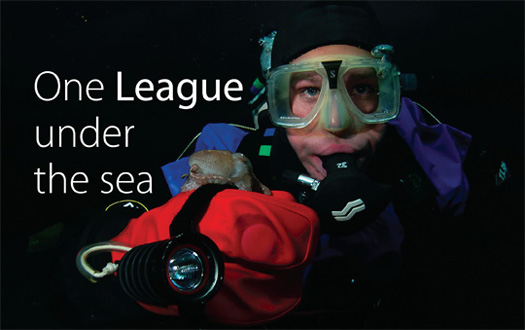 Photo by Steve Rupp
ALUMNI | Eighth-graders in the state of Delaware all study the same themes in their science classes—energy, weather, astronomy and ecosystems. But only the 100 eighth-graders in Mike League's classes at Millsboro Middle School are lucky enough to learn about these topics from a teacher who has done research in the frigid sea off Antarctica.
League, AS03, who earned his bachelor's degree in biology and education, spent eight weeks last year living at Antarctica's McMurdo Station through the National Science Foundation's PolarTREC (Teachers and Researchers Exploring and Collaborating) Program.
During that time, he was an active member of a research team investigating biological adaptation. Led by Adam Marsh, associate professor of marine biosciences at UD, the researchers are comparing two species of marine worms to assess how a polar environment shapes responses to environmental stress. An experienced diver, League collected specimens from under the Antarctic ice and helped to capture hundreds of underwater photos and hours of underwater video footage.
PolarTREC, which provides K-12 teachers with hands-on field research experience in polar regions, enabled League to share his experiences not only with his own students in Millsboro but also with students, teachers and other groups across the country.
The photos and videos from Antarctica show, in vivid color, the rich and abundant life under the ice in the world's coldest waters, from brilliant pink sea stars and sea urchins to 4-foot-long worms, cockroaches as big as a human hand and sea sponges as tall as League himself.
Having made the trip during the South Pole's early spring, from August to October, the teacher also witnessed dramatic seasonal changes, with wide swings in temperature and noticeable changes in the amount of daylight as the season progressed. He shared these phenomena with his students through time-lapse photography.
"Kids today are used to rich, multimedia experiences, and that's the best way to engage them," League says. "Through my experiences in Antarctica, I'm able to provide my students and others with a multimedia experience of an extreme environment. For kids this age, it doesn't get any better than seeing things like an anemone eating a jellyfish or watching a Ford F350 with modified wheels traversing the snow like a tank."
League kept a journal during his stay in the world's harshest environment, and his entries not only share research images and information but also provide a window into life at McMurdo.
"The station is basically like a small city," he says, "with a very diverse population. I met people there from all types of backgrounds and experiences and from all parts of the U.S. There are jobs at McMurdo for people from all walks of life—not only scientists but also janitors, plumbers, electricians, cooks, heavy equipment operators and others."
League's journal provides details about "suiting up" and the role of each diving gear layer, the types of vehicles required to get around in extreme conditions and what the scientists do for fun when they're not diving or in the lab. Every entry is loaded with photos, so the reader can see the dining hall, the living accommodations and the landscape.
League also provides valuable insights into how research is conducted. In one entry, for example, he describes the dive hut as an operations platform for the scientists to gain entry to the world beneath the ice. In another, he gives a short lesson on what happens to specimens back in the lab after a dive.
His students learn about biological classification and organism adaptation without knowing what hit them. They also learn that getting to Antarctica from Delaware is no small feat—it took League "a car, four airplanes and a lot of patience" to make the 9,525-mile trek.
The journals, videos and photos, along with webinars and conference calls, enabled League to share information far beyond his own classroom in Delaware during his stay at McMurdo. But he emphasizes that PolarTREC is about much more than a two-month experience.
"The goal of the program is to continue the dialogue," he says. "Adam has been incredibly generous with his time, his knowledge and his photos—I couldn't ask for a better mentor. The bonus is that we're geographically very close, which makes continued collaboration even easier."
League also points out that all the video and photos taken during this trip and Marsh's other expeditions are available for the students to explore in their lessons. "Even with me back in the classroom," he says, "our middle-school students can continue to use these materials in the same ways the UD researchers do—for example, to count the number of organisms in a sample."
Originally from Massachusetts, League came to UD because he was attracted by the opportunity to complete a bachelor's degree in biology while also earning secondary education certification and doing undergraduate research, all within four years.
"All of the connections I made at UD opened a lot of doors for me, and I try to share that concept with my students by telling them that a higher education can do the same thing for them," he says.
Article by Diane Kukich AS73, 84M