Association honors exceptional new graduates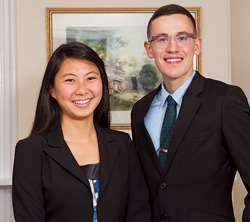 Photo by Ambre Alexander
The UD Alumni Association has selected Robert Pagels and Gealina Dun as recipients of the Alexander J. Taylor Sr. and Emalea Pusey Warner awards, respectively, as the outstanding man and woman of the 2012 graduating class. The awards are given annually to recognize leadership, academic success and community service.
Pagels graduated with an honors degree in chemical engineering and was one of a select group of students in the Class of 2012 to be awarded a Eugene du Pont Memorial Distinguished Scholarship. His numerous community service projects included work in an orphanage in India.
Dun earned an honors degree in neuroscience and will attend medical school this fall. She was a Writing Fellow and Blue Hen Ambassador, volunteered with A.I. duPont Hospital for Children and worked as an intern with Nemours Health and Prevention Services. 
Regional clubs: Welcome new grads, help others or just have fun
Join former classmates and friends at one of the numerous events planned by Blue Hens for Blue Hens. For details and to register visit www.UDconnection.com/events/. Here is a sampling of coming activities.
Aug. 23—"Welcome to the Neighborhood, Class of 2012," various locations; visit www.UDconnection.com for details.
Sept. 8—Tampa Bay Blue Hens, Rays v. Texas Rangers, Tropicana Field, Tampa
Sept. 15—Washington, D.C., Club, D.C. United soccer game
Sept. 21—Central Florida Blue Hens, happy hour and interest meeting, Florida Mall Miller's Ale House, Orlando
Sept. 22—UD Day of Service, various locations; visit www.UDconnection.com for details.
Sept. 29—Friends of Art History, Day at The Cloisters, New York City
Sept. 30—Kent & Sussex Counties Club, NASCAR Sprint Cup Series Race, Dover
Oct. 13—Central Florida Blue Hens, 39th Annual Winter Park Autumn Art Festival, Winter Park
Oct. 13—Reading (Pa.) Club, wine tasting, Breinigsville, Pa.
Oct. 20—Boston Club, Head of the Charles Regatta
Oct. 20—Northern New Jersey, The Hunt at Far Hills Race Meeting
Nov. 11—Richmond Club, Delaware at University of Richmond, football game and tailgate
Nov. 11—South Florida Club, Dolphins v. Titans, football game and tailgate, Sun Life Stadium
Nominate deserving students or alumni
If you know a Blue Hen who should be recognized or who is a strong leader, the UD Alumni Association (UDAA) is accepting nominations for awards and for its board.
Nominations are being accepted for the UDAA Alumni Wall of Fame, which recognizes outstanding professional and public service achievements by graduates, and for the Warner and Taylor Awards, which honor an outstanding woman and man of the senior class. Nominations also are being accepted for the Milton Draper Student-Alumni Award, which provides scholarships to a sophomore or junior for outstanding work in fostering student-alumni interaction.
The UDAA is seeking new directors for its board. Three men and three women will be selected to serve four-year terms beginning July 1, 2013.
More details and nomination forms are available at www.UDconnection.com or by calling the Office of Alumni Relations at (302) 831-2341.
As Hens leave the nest, UDAA can help ease their transition
Graduating seniors face many decisions as they look to their futures, from where to work and live to what health and auto insurance to buy. Thanks to the UD Alumni Association (UDAA), new alumni can take advantage of a variety of benefits and services to make their transition a bit easier.
Upon graduation, all alumni are automatically inducted into the association, which offers discounts on auto and property insurance through Liberty Mutual; an exclusive program through Bank of America; competitive health, life, travel and dental insurance; and many other benefits.
There are perks for the University, too: When alumni sign up for these benefits and services, a portion of funds is donated back to the UDAA to subsidize scholarships, regional alumni clubs, events, awards and more.
Michael Brophy, AS12, is a new graduate who says he is interested in the UDAA offerings. "I haven't really had to worry too much about insurance, thanks to Mom and Dad," he says, "but now that I'm going to be an adult, I'm going to have to figure those things out."
The UDAA also helps alumni connect for social and professional networking through its sponsorship of the online community at www.UDconnection.com, a free service exclusive to UD alumni. Through the community, UD graduates can network, post their résumés and learn more about alumni events in their cities.
A week full of Homecoming fun: Oct. 15-20

Save the date for this year's Homecoming, Oct. 15-20, which promises to be a week filled with events for all Blue Hens to celebrate their UD spirit.
In addition to receptions and affinity group gatherings that are scheduled throughout the week, activities will include such special events as Blue Hens on Main—a Homecoming kickoff on Main Street—and the Presidential Citation for Outstanding Achievement awards ceremony, which honors accomplished alumni of the last 20 years.
On Saturday afternoon, Oct. 20, alumni and fans will cheer on the Blue Hens as they take on Rhode Island at Delaware Stadium. The President's Homecoming Luncheon precedes the football game.
The Homecoming Student Committee, under the guidance of the Office of Alumni Relations, has been meeting throughout the summer to plan Homecoming activities for students—beginning with an Oct. 15 kickoff event on campus—and Alumni Relations is coordinating events for alumni.
If you would like to plan an event for your group (for example, a sport, student organization, fraternity or sorority), contact Alumni Relations Associate Director Christine Scheirer, AS09, at cls@udel.edu and the Office of Alumni Relations will help.
Visit www.udel.edu/homecoming for all the details, including football ticket and tailgating information.