A resource for civil rights studies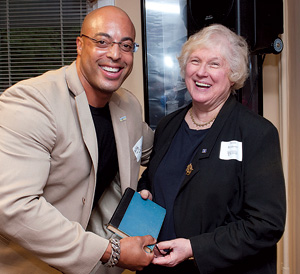 Photo by Kathy F. Atkinson
During a special Black Alumni Organization (BAO) reception at Alumni Weekend, Michael Collier, AS95, and his family donated a signed copy of Martin Luther King Jr.'s Stride Toward Freedom to the UD Library.
Collier's father, Merrick Collier, had been active in the civil rights movement and frequently attended sermons, rallies and other events led by Dr. King. When Merrick Collier died, his son became owner of the autographed book that tells the story of the Montgomery, Ala., bus boycott of the mid-1950s.
After consulting with his family, Michael Collier decided that the best home for the book was the University Library and that he would donate it on behalf of the BAO and UD's Center for Black Culture.
Susan Brynteson, vice provost and May Morris Director of Libraries, accepted the donation and said that once the book is officially cataloged at the library, it will be made available as a resource to students, faculty and the public for years to come.
Beads designed for alumni, friends, fans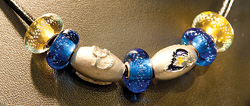 Some alumni and friends of the University who are well-known in the Delaware jewelry business have created UD-themed beads that can be used in necklaces, bracelets or to decorate such objects as watches and key chains.
The Commencement style was popular in May, while at this time of year, more purchasers are interested in the football-themed bead, featuring the UD and Blue Hen logos and football "stitching." A third style commemorates the University's founding in 1743. The beads have a sterling silver coating and are hand enameled.
The idea for the beads came from Tom Del Genio, AS99, marketing director for Michael Gallagher Jewelers in Bear, Del., working with his wife, Teresa Del Genio, AS89, and mother-in-law, Kathy Gallagher, who owns the store with her husband, Michael. The family-owned store has been in business for more than 60 years. The Gallaghers are UD supporters, and three of their children are alumni.
The beads are sold at the jewelry store and the UD Bookstore.
Couple honored for commitment to philanthropy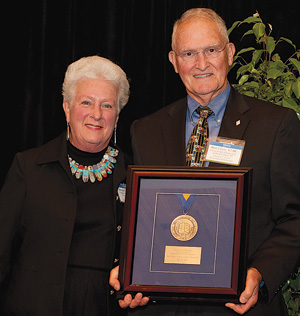 Kathy F. Atkinson
Alumni Burt and Jenny Chase, who met in 1958 while students at UD, received this year's President's Award for Philanthropic Commitment, which recognizes a donor or donor family whose scholarship support has had a significant impact on the University and its undergraduates.
The annual award was presented by President Patrick Harker at a Celebration of Scholarship reception, held in May to commemorate the generosity of those individuals who support students through undergraduate scholarships.
Burt Chase, BE62, and Jenny Haas Chase, BE60, immediately began to give back to the University through the Charles Lanier Scholarship Fund, named for a UD professor who greatly influenced Burt Chase, and the Gilbert E. Chase Family Scholarship, named in honor of Chase's father, the fund's creator and a 1933 UD alumnus. The Chases also have been ardent supporters of the UD Athletic Fund.
"We were surprised, appreciative and very honored to receive this award," Burt Chase says. "We have been to all four Celebration of Scholarship events. The scholars are all very impressive and friendly. We are already looking forward to next year's event."
Ensemble specializes in all that jazz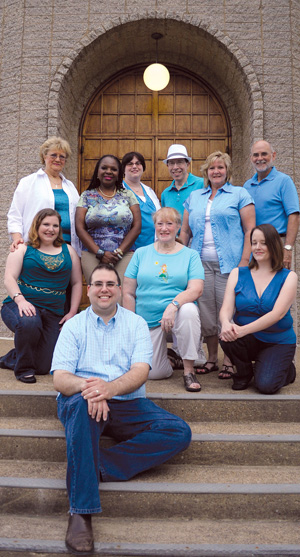 As a student, Ryan Pryslak, AS05, performed in UD Opera Theatre and sang in the UD Chorale, but his most lasting musical endeavor was the vocal jazz ensemble he formed as something to do with a few friends.
He called it DelaForte then, and the group performed a variety of songs, including a capella and Broadway-style pieces. After graduation, Pryslak decided to keep the group going under a new name, Opus One. "I was looking for something that didn't have a niche in Delaware already," he says of the ensemble's style.
Since its founding, Opus One has grown from eight members to 17—some of them fellow alumni—and has performed throughout Delaware, often at churches and also at gatherings such as the Newark Film and Music Festival. Pryslak's favorite event has been the group's annual Christmas concert at historic Bellevue Hall near Wilmington.
His advice to other music students? "As long as you have that love of your art and you take what you learn at UD, you can do whatever your heart desires," he says.
As songwriter or journalist, storytelling is key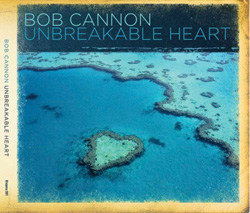 The Beatles attracted many young, adoring female fans during their time at the top of music charts. For Bob Cannon, AS77, watching the band perform on The Ed Sullivan Show inspired a future music career.
"I saw the girls screaming and thought, 'That is a great job,'" Cannon says.
After writing songs and performing across the country for years, Cannon released his first album, Unbreakable Heart, in early 2012. He describes the songs on the album as an eclectic combination of new pieces and "cannibalized old songs" that have gone through many revisions over the years.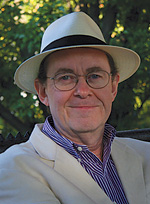 One of the songs, "Delaware Rain," was written while Cannon was a student at the University. He wrote it while on break at his home in Wilmington, thinking about his then girlfriend who lived in Maine.
During his time at UD, Cannon received a degree in music theory and composition and performed regularly at concerts in Bacchus Theatre. Even then he performed original songs and played a variety of instruments including piano, guitar and mandolin.
Cannon calls the overall genre of the album "country music with a college degree." He prefers this style, he says, because the lyrics tend to tell stories, and he wants his music to be a means of communicating with people.
Another song on the album, "One More Thrill," chronicles the journey of an aging minor league baseball player. Cannon says he related to that story, since he was finally producing his album after many years of performing.
His writing skills also brought him into journalism, and he previously worked for Entertainment Weekly before moving to his current job with a Manhattan marketing firm. Cannon self-produced the album and has been selling it at concerts and through websites such as CD Baby. He says he believes he has better stories to tell now that he is older and doesn't expect that his age is going to hold him back from continuing as a singer and songwriter.
"There is no age limit on making music," he says.
Article by Lauren Pitruzzello, AS13
Education at UD leads to think tank in South Africa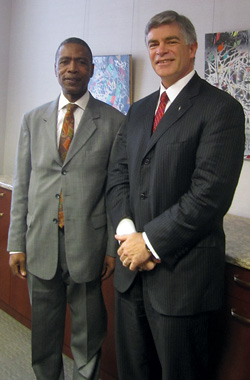 Sibusiso Vil-Nkomo recently returned from his native South Africa to Delaware to pay a visit to his alma mater, where he received a master's degree in urban affairs in 1983 and a doctorate in 1985.
Today, he is executive director of the University of Pretoria and a founding member and chairman of a newly established think tank, the Mapungubwe Institute for Strategic Reflection.
Vil-Nkomo calls the formation of the institute "an example of what I learned from seminars and brown-bag discussions involving professors, students and individuals from the private and public sectors at the University of Delaware." He says he is "continuously searching for new knowledge and solutions to development challenges."
In 1992, Vil-Nkomo returned to South Africa to teach at several universities and later became professor and dean of the faculty of economic and management sciences at the University of Pretoria. In 1994, after the first democratic elections in South Africa, President Nelson Mandela appointed him public service commissioner.
On his one-day trip to Delaware in the spring, Vil-Nkomo met with UD President Patrick Harker, Institute for Global Studies Director Matthew Robinson and a number of former colleagues.
Chemist encourages undergraduate researchers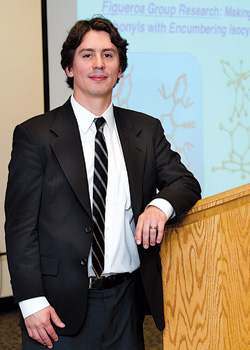 Photo by Kathy F. Atkinson
Joshua Figueroa, AS00, who conducted research in chemistry while an undergraduate at UD and now is an assistant professor of chemistry and biochemistry at the University of California San Diego, was the keynote speaker on campus at this year's Senior Thesis Symposium in May.
The annual event, hosted by the Undergraduate Research Program, features presentations by more than 60 graduating seniors whose research and senior thesis earns them a Degree with Distinction or Honors Degree with Distinction.
At UD, Figueroa conducted research with Arnold L. Rheingold, professor of chemistry and biochemistry. After graduation, he attended the Massachusetts Institute of Technology, where he earned a doctorate in inorganic chemistry in 2005, and then was a National Institutes of Health postdoctoral fellow at Columbia University until 2007. His current research centers on the synthesis of new transition-metal containing compounds and the discovery of new chemical transformations relevant to organic synthesis, industry and alternative energy.