Blue Hens in Brooklyn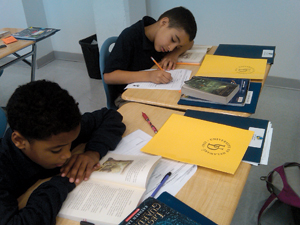 ALUMNI | Students at Achievement First Endeavor Middle School in Brooklyn, N.Y., were not surprised to walk in for their first day of school and find the walls adorned with University of Delaware decorations. The school asks its teachers to create a classroom theme based on their college of choice.
For Rhonda Weissman, EH09, an elementary teacher education major at UD and now a fifth-grade literature teacher, there was no question that her room would be bedecked in Blue Hen gear.
"I've wanted to be a teacher since I was 8 years old," she says. "When my high school guidance counselor suggested that I apply to UD's education program, I immediately agreed. With UD's excellent reputation and beautiful campus, I didn't consider anyplace else."
Weissman wanted to teach in New York City, where she had lived until her family moved to the suburbs when she started middle school. Because of her experiences, she says, she knew she wanted to make a difference and to work with a diverse population. As a freshman at UD, she enrolled in the dual teaching certification program for elementary school and for middle school English.
She credits the program with providing her the skills necessary to create strong lesson plans.
"I have been told repeatedly that I am a strong planner for someone who has less than five years of experience," Weissman says, praising her professors and student teaching coordinators for giving her the tools and techniques to succeed.
Fortunately, she says, these same techniques are also used at Achievement First Endeavor Middle School, which fosters a strong culture of reflection and feedback. "Teachers and administrators alike are constantly in classrooms, observing each other," she says. "They provide advice and guidance on a weekly basis, helping staff to develop strong classroom management skills. That is part of what has made my first teaching experience so special."
This year, Weissman co-teaches a class with a special education teacher in which about half the students receive special education services. She also teaches a small reading group, an independent reading class and a reading skills class, where students read a text at grade level and write about what they have read.
She says one of the biggest challenges she faces is that many students are lagging academically: "Like the rest of the school, I work hard to help each student build character and hone their academic skills, but it can be very difficult finding ways to support students that may be two, three or more years behind their peers at grade level."
To help students succeed, fifth-grade literature classes at the school are grouped according to the students' reading level. Additionally, they take part in a small reading group four days a week. In this class, students are even closer in academic level, and are given texts that are as applicable to each student's level as possible. There is then a small-group instruction period four days a week, where teachers target students who need the most support in their subject.
"Before I started teaching, I had no idea the extent of the challenges that teachers face," Weissman says. "I am very grateful for the education I received at the University of Delaware, which helped me prepare for the realities of my field. Teaching students with diverse backgrounds has been an inexpressibly valuable learning experience and as rewarding for me as I'd always hoped."
Article by Alison Burris, BE85