Distance runner recognized as inspirational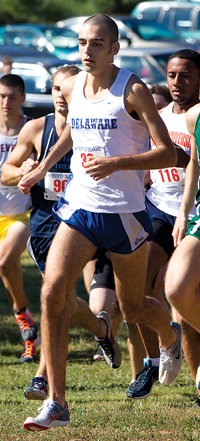 Photos by Mark Campbell
SPORTS | Senior Steve Vincent was selected as the winner of the 2011 John H. Randolph Inspiration Award, which recognizes individuals who through strength of character and human spirit serve as an inspiration to all to maximize their potential and ability for success.
The award, given by the Colonial Athletic Association, is named after former William & Mary athletic director John Randolph.
"Steve worked out at a very high level, many weeks covering more than 100 miles per week," says Delaware head coach Jim Fischer, who coached Vincent all four years in both cross country and track and field. "We couldn't be more proud of Steve for what he has been able to overcome. He is an outstanding runner and a vital member of the team."
Vincent, a three-year letter winner in cross country and a four-year letter winner in outdoor track and field for the Blue Hens, was diagnosed with generalized epilepsy in September 2006. He was prescribed medication to help control his disease, but still suffered through seizures once every three to four months for the next four years.
The seizures left him drained and dazed for several days and caused him to miss several races while at UD, but he continued a rigorous training regimen.
Despite his illness, Vincent developed into one of Delaware's top distance runners and was a co-captain of the cross country team in 2010. He recorded five career top-20 finishes in cross country, highlighted by a first-place performance at the Delaware Cross Country Invitational last September. In track and field, he won the 3,000-meter run at the 2010 Delaware Open and was a member of a 1,500-meter relay squad that achieved the second-best time in school history.
"I am extremely honored to earn this award," Vincent says. "I am very fortunate to have a coach and teammates who understand my situation and handle it so well."
For all your UD athletics news, visit www.bluehens.com.