Field hockey names new head coach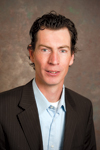 SPORTS | Rolf van de Kerkhof, who helped lead Michigan State to national prominence over the last 12 seasons, has been named head coach of the Blue Hen field hockey program, becoming just the sixth head coach in its 40-year history at UD.
He takes the reins from Carol Miller, who announced her retirement at the end of the 2010 season after an outstanding 17-year career at the helm of the Blue Hens. Miller, HS '82, who earned All-American honors as a player at UD, had a career record of 194-159 at Delaware, winning two Colonial Athletic Association titles and advancing to the NCAA Tournament in 2004 and 2009.
Bernard Muir, UD's director of athletics and recreation services, says van de Kerkhof "has enjoyed an outstanding career at Michigan State and has a proven track record in recruiting and leading world-class players."
He led his 2010 team to a 15-6 overall record and an NCAA Championship first round appearance. Since 2000, he has been involved in the Youth Olympic Development and Youth Elite Coaching programs, sponsored by the U.S. Field Hockey Association.
For all your UD athletics news, visit www.bluehens.com.