Top senior athletes honored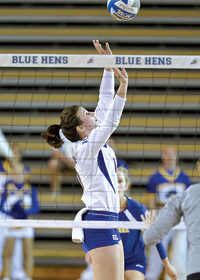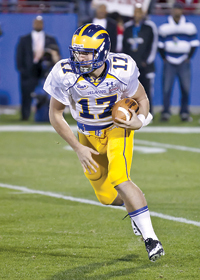 Photos by Mark Campbell
SPORTS | Senior co-captains Pat Devlin and Jess Chason, who led their respective teams to Colonial Athletic Association Championships and berths in the NCAA Tournament last season, were honored as the UD Alumni Association Outstanding Male and Female Athletes of the Year.
Devlin capped an outstanding two-year career for the UD football squad this fall by leading the Blue Hens to the national championship game and earning All-American honors.
A second-year transfer from Penn State, Devlin enjoyed an outstanding senior campaign in 2010 as he led the Blue Hens to a record of 12-3, a share of the CAA title and a berth in the national championship game, where Delaware fell to top-ranked Eastern Washington 20-19. He engineered head coach K.C. Keeler's high-powered offense to near perfection in 2010 and participated in the prestigious East-West Shrine Game in January.
Chason guided the Blue Hens' volleyball program since her sophomore season, serving as the starting setter in her final three campaigns.
In the fall, she became the first Blue Hen and the third player in conference history to earn back-to-back CAA Setter of the Year awards as she helped orchestrate a Blue Hens offense that topped the CAA in hitting percentage (.220) and assists (12.09 per set). She was the lone player in the conference who dished out more than 10 assists per contest (10.46).
Chason was a member of the first team All-CAA the past two seasons. Academically, she was named to the CAA Honor Roll all four years.
Numerous other top athletes were also recognized at the annual UD Athletics Awards Dinner in May. For a complete list and for all your UD athletics news, visit www.bluehens.com.