Men's lacrosse team advances to NCAA tournament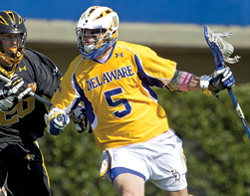 SPORTS | Four UD men's lacrosse players closed out their collegiate careers with a Senior All-Star Game victory in late May.
Game Most Valuable Player Noah Fossner and fellow Blue Hen seniors Kevin Kaminski, Nick Elsmo and Matt Stefurak led the South team to a 15-11 victory over the North in the annual U.S. Intercollegiate Lacrosse Coaches Association North-South Senior All-Star Game at Goucher College. Fossner was a three-year starter at goalkeeper and a three-time UD captain.
The win helped the four Blue Hens close out their careers on a high note after Delaware fell to Duke 15-14 in the first round of the NCAA Tournament May 14 in Durham, N.C.
Delaware capped one of its finest seasons in school history this spring as the Blue Hens posted a record of 11-7, won the Colonial Athletic Association Tournament title and advanced to the NCAA Tournament for the second straight year and for the third time in the last five seasons.
For all your UD athletics news, visit www.bluehens.com.