Keeler foresees strong season for Hens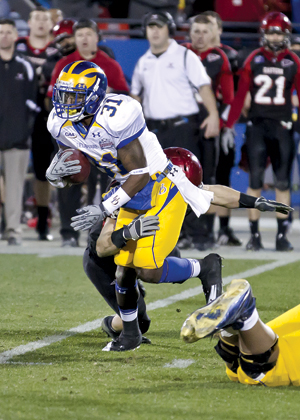 Photo by Mark Campbell
SPORTS |After a stellar 2010 season that finished with a trip to the NCAA Football Championship Subdivision title game, the UD football team is retooling in search of similar success in 2011.
Although the Fightin' Blue Hens have graduated an outstanding quarterback in All-American Pat Devlin and several key members of the defensive team, head coach K.C. Keeler has high hopes for the fall campaign, which will open with a game Sept. 3 at Navy and will include home games against Delaware State on Sept. 17 and Colonial Athletic Association newcomer Old Dominion on Sept. 24.
The final game of the season, against rival Villanova, will be held on a larger stage, PPL Park in Chester, Pa., home of the Philadelphia Union.
Battling to take the place of Devlin, who led the Hens to a 12-3 record and a share of the Colonial Athletic Association championship, are a trio of quarterbacks—sophomore Trevor Sasek, junior Tim Donnelly and redshirt freshman Justin Burns. Sasek backed up Devlin last season, appearing in seven games with one start.
The Hens' running game has promise, with Andrew Pierce and David Hayes returning and redshirt freshman Malcolm Yowk adding depth. Pierce shredded opposing defenses for 1,655 yards on 329 carries and 14 touchdowns in his freshman season, and Hayes added 528 yards on 92 carries and six touchdowns. Yowk ran for 32 yards in the Blue-White spring scrimmage.
Also back is leading receiver Nihja White, who last year caught 60 passes for 752 yards and six touchdowns, and senior Mark Schenauer.
Delaware features an offensive line that should rank among the top units in the nation. Key players include senior guard Gino Gradkowski, who is among the nation's top returning linemen, and center Rob McDowell, also a fourth-year starter.
On defense, the Blue Hens welcome cornerback Travis Hawkins, who transferred from the University of Maryland.
Anchoring the defensive seven will be senior lineman Michael Antunrase and linebackers Paul Worrilow, a junior, and Andrew Harrison, a senior.
Keeler has announced that Gradkowski, Schenauer, Worrilow and Harrison have been selected as team captains. Gradkowski earned first team All-CAA honors and was a second team Phil Steele All-American a year ago, while Worrilow was a third team All-CAA selection. Worrilow led the team in tackles in 2010 with 113, while Harrison was third with 90 stops. Schenauer ranked fourth on the team with 36 catches for 510 yards and three touchdowns. Three of the four captains—Worrilow, Harrison and Schenauer—are former walk-ons.
Keeler, who is entering his 10th season as head coach, was pleased with the spring practices and eager to get back to the field for August workouts. "All in all, this was a great spring for us," said the 2010 AFCA and Liberty Mutual national coach of the year. "I thought we made tremendous progress."
Visit www.bluehens.com for all your UD athletics news.