Summer Scholars conduct year-round research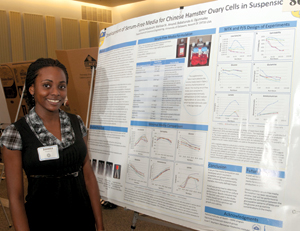 Photo by Duane Perry
RESEARCH | Sweep net in hand, Katie Yost wants to find out how well a restored wetland previously rife with invasive reed canary grass near Newark, Del., supports insect biodiversity compared to a meadow filled with native plants.
Yost, a biological sciences major, is one of 116 of UD's 2010 Summer Scholars who showcased their research at a special event in April. The current group of Summer Scholars began their work in early June 2011.
Students in the Summer Scholars Program work on their projects full time for 10 weeks in the summer and continue on to complete three credits of research the following academic year, each sponsored and guided by a faculty member.
Last year's crop of scholars tackled topics as diverse as potential prostate cancer therapeutics and enzyme-enhanced microbial fuel cells. They presented their work, just as faculty scientists do at national meetings, in scientific posters.
One of the presenters, chemical engineering major Joanna Adadevoh, continued her research this summer. She was one of 19 students selected as Howard Hughes Medical Institute Research Scholars for summer 2011.
The number of student presenters rose by 20 percent in the spring session compared with 2010, according to Meg Meiman, coordinator of undergraduate research.
"We also are beginning to see more crossover from a disciplinary standpoint, with a branching out to involve the humanities and social sciences in projects," she says. As for Yost, she used her sweep net, which resembles a butterfly net but with a sturdier material for its collecting bag, to catch a total of 13,000 insects for examination and counting at two sites.
"This research project provided me with lots of new knowledge, skills and hands-on experience that I could not have gotten inside a classroom," she says.